Outsourcing in Clinical Trials: Medical Devices Europe 2016
16-17 February 2016, Munich, Germany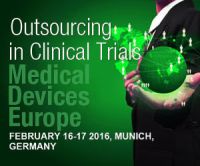 Following the success of the past two events, Arena International is pleased to announce that Outsourcing in Clinical Trials: Medical Devices Europe 2016 will be in Munich in February 2016.
The event programme features insightful case studies, interactive presentations, panel discussions and exclusive speaker-hosted roundtables.
The conference offers attendees an opportunity to network with industry peers representing companies of all sizes to debate on different ideas and develop comprehensive strategies in the future to improve clinical trials.
Outsourcing in Clinical Trials: Medical Devices Europe 2016 is the only event that incorporates a regulatory focus and aims to develop modern strategies that relate to business models and strive to fit in with your clinical trial goals.
Benefits of attending the conference include advice on how to adapt to a regulated environment and how to minimise risk to products.
Unlike events that focus on the regulatory aspect of the medical device sector, this event aims to help evolve companies against new regulations and strategise how to succeed in the growing market.
Attendees can learn how to safeguard and expand their company through an extensive range of diverse topics including:
Combination products
Regulations
Post-market surveillance and regulatory requirements
Investigator initiated research
Vendor management
The conference provides the opportunity to learn from speakers discussing crucial topics and collaborate with key figures from the medical device industry, as well as engage in debates and discussions where experiences and ideas are shared.
For more information please visit www.arena-international.com/omdteurope/
When registering for the event, quote the reference code MK-JDP.
Outsourcing in Clinical Trials: Medical Devices Europe 2016 Images