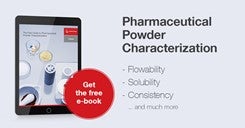 Anton Paar recently released a new e-book, "The Field Guide to Pharmaceutical Powder Characterization," which explains how Anton Paar's instrument portfolio can help readers overcome some of the hardest pharmaceutical powder challenges, including flowability, solubility, and consistency.
The e-book, written by internal Anton Paar experts and based on real measurement data, covers a range of pharmaceutical powder topics with the needs of R&D and QC experts in mind. Readers learn how to:
Determine particle size, surface area, and porosity to improve solubility and dissolution rates
Conduct skeletal, tapped, and bulk density measurements to improve packing and tabletting
Determine the flow behaviour of pharmaceutical powders
Use X-ray diffraction and small-angle X-ray scattering to assess the degree of crystallinity or other structural changes
Identify samples with Raman spectroscopy
Prepare samples for elemental purity analysis
Download the free e-book today from Anton Paar's website.
Find out more by visiting our website or contacting us via the enquiry form on this page.