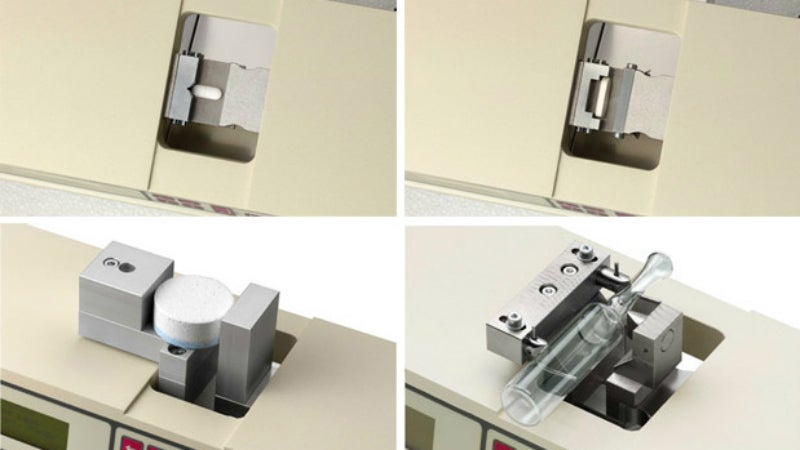 SOTAX Group is a global leader in solid dosage form testing and specialises in complete tablet hardness testing solutions for measuring weight, thickness, diameter and tablet hardness (breaking force).
With a proven track record of more than 15,000 testers, our automatic and manual tablet hardness testers are used in research laboratories, in-process and quality control departments, and manufacturing plants of pharmaceutical companies all over the world. The range of products also includes disintegration testers, dissolution equipment, friability testers, tap density testers and torque meters.
Manual tablet hardness testers
Whether you simply need to measure tablet hardness (break force) or do complete testing of weight, thickness, diameter and hardness, the 8M tablet hardness tester is a versatile yet easy-to-operate multi-measurement system for virtually all tablet types and shapes. A built-in report writer gives you the flexibility to print simple or complex reports, including graphs, by connecting a printer. Alternatively, the 8M can also be operated with user-friendly PC software that allows fully 21 CFR, Part 11 compliant data analysis and storage of test results or batch reports.
Semi-automatic tablet hardness testing
Manual testing of weight, thickness, diameter and hardness always requires an operator to position the tablet in the individual measuring instruments. The modular HS8 handling system further extends the functionality of the manual 8M tablet hardness tester, saving time and money: the operator simply places the tablets to be tested on a round magazine and presses the start button. The HS8 individually picks up the test samples and automatically delivers them to each of the four measurement stations. All functions of the 8M are retained with the added benefit of automatic feed, patented contact-free thickness measurement and an integrated precision balance (scale).
Automatic tablet hardness tester
The AUTOTEST 4 is a fully automatic tablet testing system for measuring weight, thickness, diameter and hardness of tablets, capsules and oblong-shaped products. The patented SmartRake™ system guarantees precise positioning of tablets and maximum repeatability, making the AUTOTEST 4 the most flexible automatic tablet hardness tester on the market.
With software interfaces to all major brands of tablet presses, the AUTOTEST 4 can be fully integrated for in-process control in the compression room or used stand-alone with a user-friendly PC software (fully 21 CFR, Part 11 compliant). Its solid design and trouble-free operation have made the AUTOTEST 4 the preferred choice of both operators and quality managers for the production floor as well as in research and laboratory environments worldwide.
Automated testing of pharmaceutical tablets for real-time release
SOTAX Group has successfully realised a new approach in automated testing of pharmaceutical tablets by combining proven automation principles for measuring weight, thickness, diameter and hardness with innovative NIR technology for rapid, non-destructive potency and content uniformity determination. Long waiting times are virtually eliminated and produced products can be released immediately. The cost savings realised with this 'real-time release' immediately boost the productivity and competitiveness of any tablet manufacturing plant, making your business fit for the future.
Solid dosage form testing equipment
A comprehensive range of highly efficient devices completes the range of solid dosage form testing equipment. Conforming to all current EP and USP specifications, the dissolution, disintegration, friability and tapped density testers allow economic quality control without compromising quality.
Cap torque measuring
The TM200 torque-measuring device is specifically designed to work on bottle caps and provides reliable assurance and documentation of opening or closing torque. Even child-resistant caps requiring downward force during the opening operation can be tested.
Tablet testing services
Competent and friendly local service, and training and support when you need it, are key to our business. Our global network of qualified service engineers in more than 40 countries assists you in ensuring the smooth running of your business – wherever you are. We offer:
Free tablet sampling service
Customised solutions
Installation and verification
Validation services and professional documentation
Customised operator training
Calibration services
Preventive maintenance
Repair services
Quality tablet hardness testers
The name SOTAX Group is recognised as a mark of quality throughout the world. Owning a SOTAX Group tablet tester is a secure investment in your company's future. Our testers give you accurate, consistent test results year after year and provide you with data you can depend on. Precision results are presented in formats that regulatory agencies around the world readily recognise and accept.
Manufactured in Switzerland with a strong commitment to reliability, quality and local service support, SOTAX Group strictly adheres to international standards and regulations, is ISO 9001:2000 certified and continuously strives to improve for the benefit of our customers.
In May 2018, pharmaceutical manufacturing firm Aspen Pharma opened a new high-containment facility in Port Elizabeth, South Africa.
The SmartTest 50 sets new standards in semi-automatic testing of up to five physical parameters (weight, thickness, width, diameter / length and hardness) of virtually all tablet shapes with one single unit. In full compliance with current Pharmacopeia requirements, the system offers highest precision, flexibility and exceptional user-friendliness.
Dr Schleuniger Pharmatron, Inc.
25 Sundial Ave, Suite 315
Manchester
NH 03103
Other
United States of America