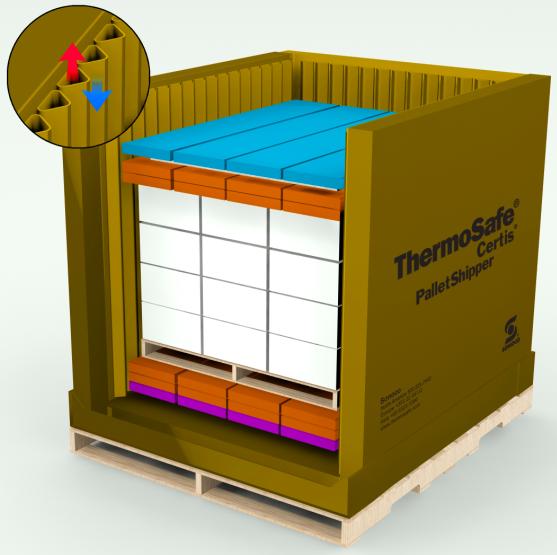 Sonoco ThermoSafe has launched the Certis RP Pre-Qualified Pallet Shipper, which accepts a full 40in x 48in load for pharmaceuticals, biologics, vaccines, APIs, and other high-value products between 2°C and 8°C during shipment.
Using Sonoco ThermoSafe's patent pending natural convection design, it is one of the smallest and lightest shippers available that can transport a full pallet load.
Sonoco ThermoSafe global product manager Ben VanderPlas said: "The Certis RP is a real breakthrough in performance for our customers. Our natural convection design requires no side refrigerants, making it customs friendly while greatly reducing weight and assembly time. This, coupled with our ZERO BENCH-TIME™ refrigerant technology, makes the shipper more cost-effective overall compared to active heating and cooling units in many cases."
Russell Grissett, VP/GM of Sonoco ThermoSafe, added: "Our customers are continually concerned about logistics costs and the potential loss of product due to temperature excursions. The Certis RP is up to 24% lighter and 17% smaller than other shippers with similar sized payloads yet it is robust enough to hold 2°C and 8°C for more than five days with only top and bottom refrigerants. This is a truly remarkable feat of engineering."
The Certis RP pallet shipper is pre-qualified to Sonoco ThermoSafe's new ISCsilver® Global ambient profile and is part of our greater Certis series of pre-qualified pallet shippers.
Sonoco ThermoSafe has revealed the results of its survey entitled 'Assessing the Future of the...