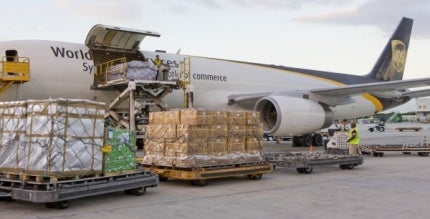 UPS partners with healthcare companies to choreograph logistics of all types – from the manufacturing facility to a patient's front door. We've built a strong global network of dedicated facilities, and our specialized distribution and transportation services allow our customers to maximize supply chain efficiency, meet regulatory requirements and protect products from temperature excursions.
Dedicated healthcare storage solutions
Our expertise and dedicated storage solutions turn healthcare logistics into a competitive advantage. UPS can help provide a reliable product supply in established and emerging markets, all while ensuring compliance and product security.
More than 35 dedicated multi-client healthcare facilities and over 510,000m² of cGDP-compliant distribution space globally
Dedicated quality assurance and regulatory compliance teams managing hundreds of licenses worldwide
Temperature-controlled and humidity-monitored storage environments
Customized service offerings such as bar-coding, labeling, kitting, inventory management, service parts logistics, and returns management
Hazardous materials storage, dry ice replenishment and refrigeration services
Specialized logistics solutions for the pharmaceutical industry
UPS's customers benefit from the world's largest integrated, multi-modal delivery network, which provides an uninterrupted supply chain. Our specialized logistics solutions get the right products to the right recipients at the right time and in the right condition.
Temperature-sensitive air-freight shipping
Our global temperature-sensitive air-freight service, UPS Temperature True®, is designed for the pharmaceutical and life science industry and is based on precise, measurable operating procedures. UPS provides container solutions and routing options with day and time-definite options to prevent temperature excursions.
Hybrid cooling system shipping containers for temperature control
The PharmaPort™ 360 is our latest solution for temperature-sensitive shipments. This fully validated and tested container, with its unique hybrid cooling system, offers maximum protection and allows customers to take advantage of more routing options, providing further possibilities for market penetration and business growth.
Packaging for temperature-sensitive shipments
UPS Temperature True packaging simplifies the process of choosing the right packaging solution for temperature sensitive products. Based on shipping lane analytics, UPS offers expert advice and provides customers with an optimized vendor neutral packaging solution to protect valuable shipments. The service also extends to monitoring devices that allow for continuous shipment monitoring and the provision of an auditable trail of temperatures.
Proactive intervention service to maintain product integrity
UPS Proactive Response®, a 24/7 proactive intervention service, helps healthcare companies ensure product integrity while reducing costs associated with products that go outside their temperature range. The contract service alerts customers of any potential delivery delays and includes proactive resolutions by UPS, based on predefined contingency plans.
Combined delivery and collection services
UPS Returns® is an industry-leading service with options that provide enhanced control over reverse logistics and an improved customer experience. The UPS Returns Exchange service, for example, provides for the delivery of a new item and collection of an old one at the same time. The entire return, including a shipping label, packing and collection, takes place during a single visit.
Delivery to specific hospital departments
UPS can also deliver to a single point within a sprawling hospital campus. With UPS In-room Delivery, critical shipments can be delivered to a specific department for immediate refrigeration, storage, or use.
UPS Healthcare customer service
Changing experiences, changing lives. Through our global network and logistics expertise we help our customers better respond to patient needs and take advantage of market opportunities around the world.
More information about UPS and its healthcare capabilities can be found on our website.
When a bio-pharmaceutical manufacturer came to UPS for help, they had been experiencing severe delays in their Saudi customs clearance.
Start-up pharmaceutical company Oxford Pharmaceuticals broke ground for the construction of a generic drug manufacturing and distribution facility in Jefferson County, Birmingham, Alabama, US, in September 2015.
UPS' Temperature True® Cryo allows customers to ship parcels in a cryogenic environment.
California-based robotics company Zipline and Gavi the Vaccine Alliance have formed a partnership with the UPS Foundation to use drones to transport life-saving blood and vaccines.
UPS Healthcare
55 Glen Lake Parkway NE
Atlanta, GA 30328
Georgia
United States of America
UPS Europe
Avenue Ariane 5
1200 Brussels
Belgium
UPS Asia Pacific
22 Changi South Avenue 2
UPS House
Singapore, 486064
Singapore
UPS Americas and the Caribbean
3401 NW 67th Avenue, Bld. 805
Miami, FL 33122
Florida
United States of America