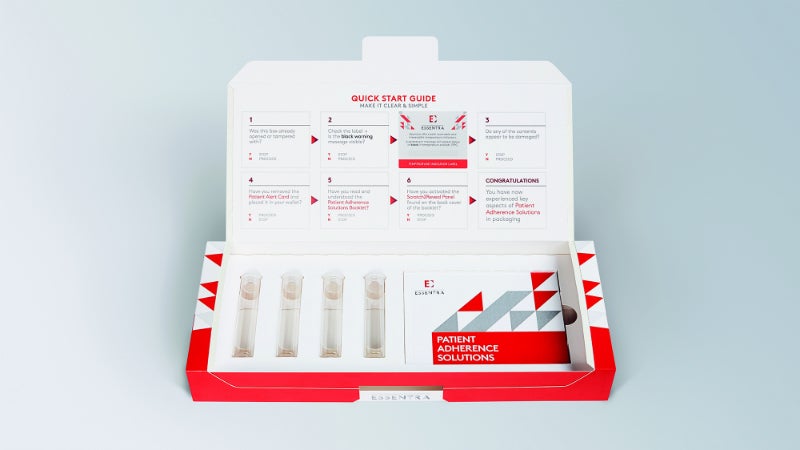 Pharmaceutical packaging and authentication solutions provider Essentra successfully showcased its innovative pharmaceutical packaging, labels, serialisation, and security portfolio at Pharmapack Europe in Paris.
Having taken place in February, Pharmapack included a symposium, workshops, innovation tours, and networking areas. Essentra's comprehensive range of products underlines the company's ability to provide advanced solutions in response to current and upcoming industry challenges and legislation.
Essentra develops packaging to increase patient adherence, the process of encouraging patients to comply with their prescribed medical regime. This may be delivered through products such as the extended content label, which simply and effectively increases labelling space without compromising the size of the packaging, providing patients with more information to ensure medicines are taken correctly.
Attendees at Pharmapack saw examples of these innovative products, including Essentra's Plurium™ leaflet, which delivers several pages of information in multiple colours and can be set out in an attractive and convenient booklet format. It also allows patients to flip through pages and access information about their medications easily.
Essentra also exhibited its tamper verification, serialisation, and authentication solutions at the international trade show. These layers of security solutions are becoming increasingly important as the EU falsified medicines directive (FMD), commenced February 2019, states that all pharmaceutical companies providing medicines for human consumption must include both a unique identifier and an anti-tampering device on all packaging.
Essentra's global category manager of healthcare and personal care Rupert Taylor said: "It is essential that the pharmaceutical industry acts now to ensure that all products comply with new legislation and are protected from counterfeiters. The best way to do this is to implement multiple layers of security, featuring tamper verification, authentication, and serialisation features."
Global provider of essential healthcare packaging and support services Essentra aims to exceed client expectations...