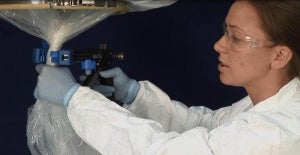 ILC Dover pioneered flexible containment for the pharmaceutical industry and continues to innovate processes for better performance. We invented the original crimping system and now we have created the CrimpLoc™ System. The new system is the next generation to provide high containment, secure closure, and easy one-piece crimp removal without any breaking or risk of plastic shards.
The CrimpLoc System is designed for use with DoverPac®, Continuous Liners, and other ArmorFlex® film solutions.
Key factors to consider for secure closures:
Containment level
Ease of use
FDA approved materials for crimps
Ergonomics/safety
No plastic shards from separation cut or crimp removal
Validation
Please contact ILC Dover to find out more.
ILC Dover, a global leader in the development of single-use flexible solutions for pharmaceutical manufacturing,...