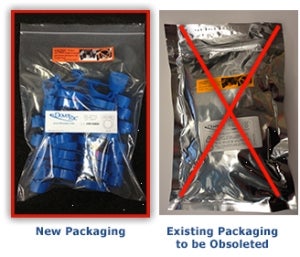 I LC Dover is committed to continuous improvement and listening to our customers. We first invented flexible high containment in 1997 and immediately improved the old standard of twist, tie, tape and cut for the separation of the flexible by inventing the crimp system.The industry has used nearly one million crimps to achieve consistent and safe closures for continuous liners, DoverPacs and other flexibles.
Our new launch introduces an improved crimp material to make the process easier for the operator and to reduce the need for moisture protective packaging. The new crimp requires little change for our customers, as the process will be the same, and only the part number will change. The benefits include easier crimping with our CrimpLoc tool, no worries about moisture affecting the crimps, and a reduction in packaging waste since the new crimps will be packaged in a simple polybag.
Changing to the new crimps:
Crimps: the change will be seamless and ILC Dover will notify you of the new part number on your next proposal, shipping document, and certificate of conformance. The cost will not change
CrimpLoc: the new crimps work with any ILC Dover-supplied crimp tool but we recommend that you use the CrimpLoc for ergonomics. Contact ILC Dover Cusomter Service to order your new CrimpLoc tool
Functionality: the new crimps will function exactly the same as previous crimps. The color and how the crimping process is performed will not change along with meeting the same containment performance
While design characteristics may be identical to rigid stainless-steel isolators, flexible film aseptic isolators offer several advantages for careful consideration.
A pharmaceutical production line must be safely and efficiently managed above all else. If a product becomes contaminated or production is delayed, it can have...