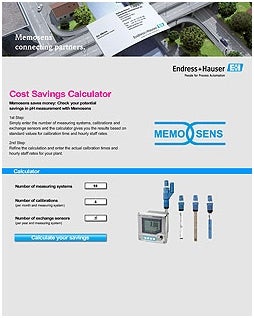 It is not a contradiction to say that investments help to reduce costs. Customers of Endress+Hauser have saved up to 50% on their maintenance costs since the commercial launch of Memosens five years ago. Those interested can now calculate the savings to be gained from using the non-contact sensor technology online on Endress+Hauser's web site.
Switching from analog to digital is worth it
As of October 2009, Endress+Hauser has supplied more than 130,000pH electrodes with Memosens. Depending on the area of application and customer requirements, users save between 30% and 50% of their costs when compared to analog pH measuring points. With the new online calculator on www.apps.endress.com/memosens, customers can now calculate their cost savings on the basis of standard values. They can also find out at what point in time their investment will have paid for itself. A simple calculation requires only three values: the number of measuring points, the number of calibrations per month and the number of replacement sensors per year and per measuring point. If customers know their company's hourly rates for experts and operating personnel as well as the calibration times, the calculation can be customized further.
Customers adopt Memosens technology as standard
Nowadays, a world without Memosens sensors and their inductive plug-in connection is virtually inconceivable. The technical benefits of this sensor technology are particularly apparent under harsh process conditions. Customers in the process industry, such as Bayer, Merck and Lanxess, have already adopted Memosens as a standard in their plants.
Mr Werske, an expert in measurement and control technology in the chemical production of Merck KGaA, highlights the key benefits of Memosens: "The possibility of simply exchanging the sensors on site and servicing them at a central location under ideal conditions results in quality and cost advantages which more than justify the costs of retrofitting."
As part of their innovative calibration and maintenance strategy, Merck relies on predictive maintenance, with the staff simply replacing the sensors on site with calibrated sensors at regular intervals. Specialists in measurement technology then regenerate the replaced electrodes in their own factory and make them ready for operation in the process again. This strategy prolongs the operating life of the sensors significantly. Experts use Memobase software to analyze and optimize their measuring systems and maintenance strategies.
Joint effort for utilizing and enhancing Memosens technology
Memosens has caused a stir in the industry. Four out of five Endress+Hauser customers are now opting to use the smart sensor technology when fitting out new plants. Thanks to these satisfied customers and partnerships, the technology is on the way to becoming an industry standard.
The first partnership agreement was signed between Endress+Hauser and Knick. These two manufacturers of measurement technology are developing a joint platform for inductive, non-contact connection systems for the benefit of all users. Quality and compatibility are guaranteed by the Memosens seal of quality. Hamilton Bonaduz is another manufacturer who is supplying Memosens sensors. This means that customers can now choose from several suppliers of sensors and devices.
Around 35 Open Integration programme partners gathered together at Endress+Hauser in Reinach, Switzerland, to share...