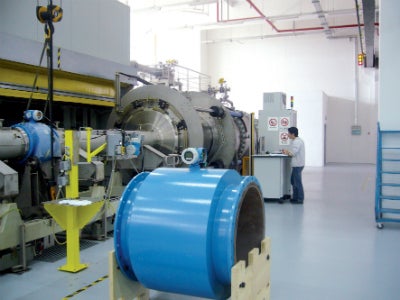 Endress+Hauser is manufacturing an increasing number of flowmeters in Suzhou, China, with due to demand from growth in the water and wastewater industry.
Endress+Hauser Flowtec, global leader in flow measurement technology, has reacted by enlarging its plant in the east of the Republic.
The extension work was recently completed after getting underway in March 2012.
"With respect to production logistics, the new building allows us to respond even more quickly and flexibly to our customers' demands," said Gerhard Jost, managing director of Endress+Hauser Flowtec.
An extra 3,600m², increasing the total floor space to 18,000m², is earmarked mainly for the production of measuring tubes as main components of magnetic flowmeters.
Water, the growth driver
Klaus Endress, CEO of the Endress+Hauser Group, sees the new expansion as part of a sustained growth strategy.
"We develop our production sites around the globe to be close to our customers wherever they are in the world," he said.
The expansion in Suzhou is designed to meet the growing demands of the Chinese market.
One of the most important targets adopted in China's 2010 five-year plan was the nationwide upgrading of the water infrastructure. "This gives us the unique chance to get established in this growth market with high quality measuring instruments," said managing director Gerhard Jost. "Whether in water treatment, sewage plants or water distribution, the exact measurement of water flows is a critical factor in process control."
High-profile inauguration
In the presence of Klaus Endress and Gerhard Jost, the extension in Suzhou was formally inaugurated on 8 August 2013. Among the guests of honor were many representatives from politics and business: Kilian Widmer, head of the Swiss business hub in Shanghai; Andreas Luchsinger, president of the Swiss-Chinese Chamber of Commerce in Shanghai; high-ranking representatives of the state quality authority from Central Beijing, from Jiangsu Province and the City of Suzhou. Other guests of honour came as representatives of the local city authority, the China-Singapore Suzhou Industrial Park (SIP) and customers and suppliers from the Suzhou region.
Around 35 Open Integration programme partners gathered together at Endress+Hauser in Reinach, Switzerland, to share...