Sensum
Manufacturer of Machines for Automatic Visual Inspection of Pharmaceuticals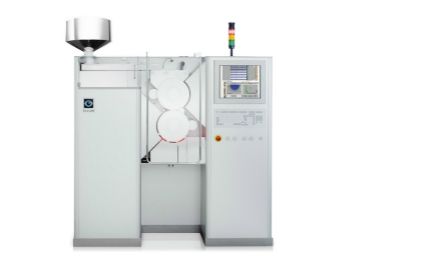 Sensum is a high-tech company founded in 2000 that develops, produces and sells innovative automatic visual inspection systems for the pharmaceutical industry.
SPINE for automatic visual inspection and sorting of tablets and capsules
SPINE is a state-of-the-art automated machine for 100% visual inspection and sorting of tablets and capsules.
The machine automatically inspects the entire surface of tablets and capsules with six colour cameras at the speed of up to 360,000 products per hour.
An intuitive, user-friendly graphical interface provides simple operation and training for the inspection of new products.
The machine has an active sorting system with verification for both good and defective products, which ensures fail-safe and reliable operation.
A small number of format parts, ergonomic design and easy access are key features for fast changeover to new products, simple cleaning and maintenance.
SPINE is compliant with FDA 21 CFR Part 11.
SPINE HYPO for automatic visual inspection and sorting of highly potent tablets and capsules
SPINE HYPO is the first inspection machine in containment on the market.
The machine provides the same inspection and sorting performance as the standard Sensum SPINE machine, and also includes containment concepts, such as separation of process area with a barrier, negative pressure and air filtering.
SPINE HYPO can be equipped with closed feeding and discharging systems to completely isolate a contaminated area.
Glove ports and rapid transfer port (RTP) are used for safe access without exposing the user to contamination.
Simple and efficient cleaning is achieved with a minimal amount of contaminated parts, dry cleaning with aspiration and wet cleaning for powder binding and wash down.
SPINE HYPO has an ergonomic and fully tool-free design.
HELIX for automatic lifting and dedusting
HELIX machine is a lifting and dedusting machine for tablets and capsules.
HELIX is compact, mobile and can be set to an arbitrary height, which makes it easily adapted to various production processes, such as capsule filling and weighing, tablet pressing and coating, quality inspection, as well as blister and bottle filling.
HELIX can be used wherever there is a need for gentle and efficient lifting and/or dust removal from tablets or capsules.
The modular construction of HELIX has a small amount of parts and can be assembled and disassembled in a tool-free manner. The lifting column can be fully dismantled for simple cleaning.
Process analytical technology visual inspection system for automated particle analysis (PATVIS APA)
PATVIS APA is a PAT tool for in-line monitoring, understanding and optimisation of fluid bed pharmaceutical production processes.
PATVIS APA provides real-time visualisation, monitoring and automated analysis of the size and shape of particles.
A portable, ergonomic and tool-free design enables non-invasive, fast and simple installation to existing viewing ports of fluid bed process equipment.
An intuitive graphical user interface is used to follow process parameters' trends, distributions and also features options, such as viewing process in slow motion and monitoring of batch-to-batch reproducibility.
PATVIS APA, which is compliant with FDA 21 CFR Part 11 and ATEX, can be used with a stand alone benchtop for at-line and off-line inspection.
About Sensum
Sensum co-operates with R&D at the Laboratory of Imaging Technologies, Department of Electrical Engineering, University of Ljubljana in Slovenia.
The company has 30 years of experience in image processing and analysis.
Press Release
Sensum is to attend Interphex 2016, which will be held from 26-28 April in New York, US.
Read more
Sensum is to attend Powtech 2016 Trade Fair for Processing, Analysis, and Handling of Powder and Bulk Solids, which will be held from 19-21 April in Nürnberg, Germany.
Read more