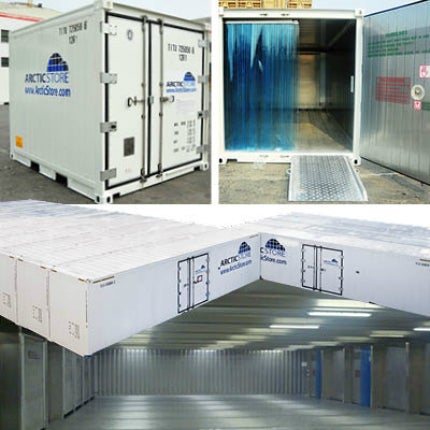 The ArcticStore™ range of refrigerated and warm storage solutions cover a large spectrum of temperature settings required by the pharmaceutical industry when storing either finished products or raw materials.
We offer a range of sizes from 5.4m² / 12m³ to 26.5m² / 67.0m³ for ArcticStores, while our Arctic SuperStore models start with 58.0m² / 131m³ and can be as large as you require. To date, the largest SuperStore installations are 290m². Common for all our models are the user-friendly attributes described below, as well as modern, precise, reliable and power efficient refrigeration or heating.
Many models are available for prompt delivery, which can be immediate in some areas, while the normal lead time for most models is often only a matter of a few days or weeks. ArcticStores are built to perform with a 90°C temperature variance inside / outside and can operate in all ambient climates from extreme cold to the warmest climate experienced.

User-friendly features on containers include: easy-to-open doors, interior door release, internal lighting, light switch and man trap alarm, air curtains and loading ramp with safety sides.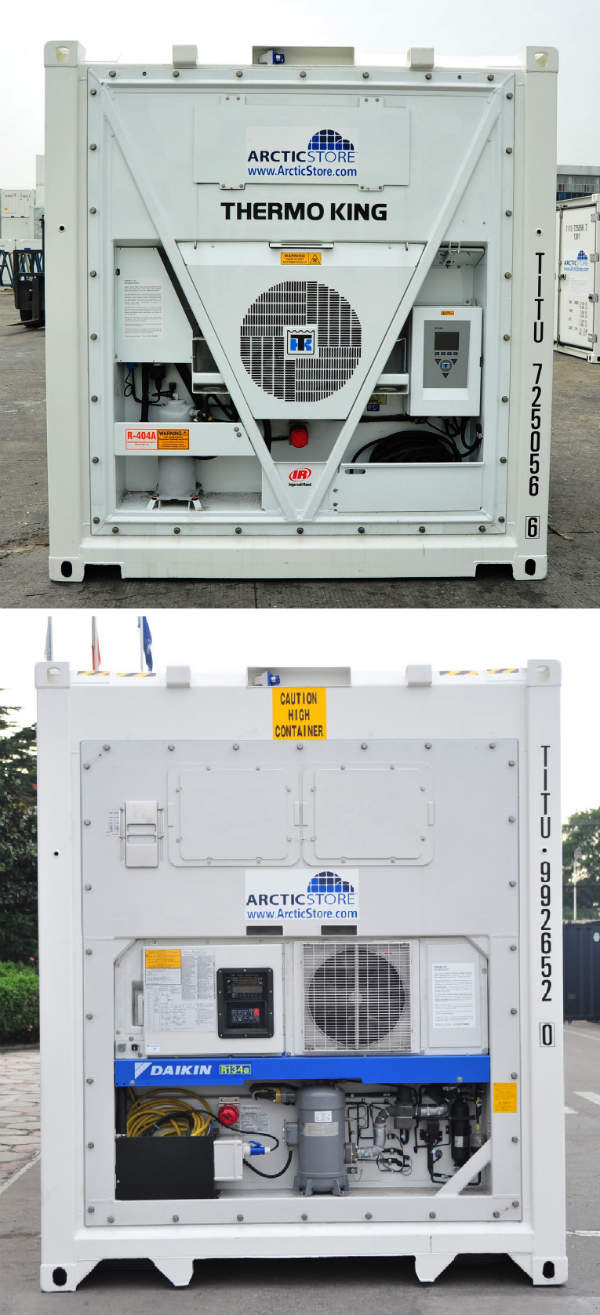 ArcticStore feature modern technology, low-power consumption refrigeration / heating for temperature settings between -40°C and 30°C. These models include an inbuilt data logger.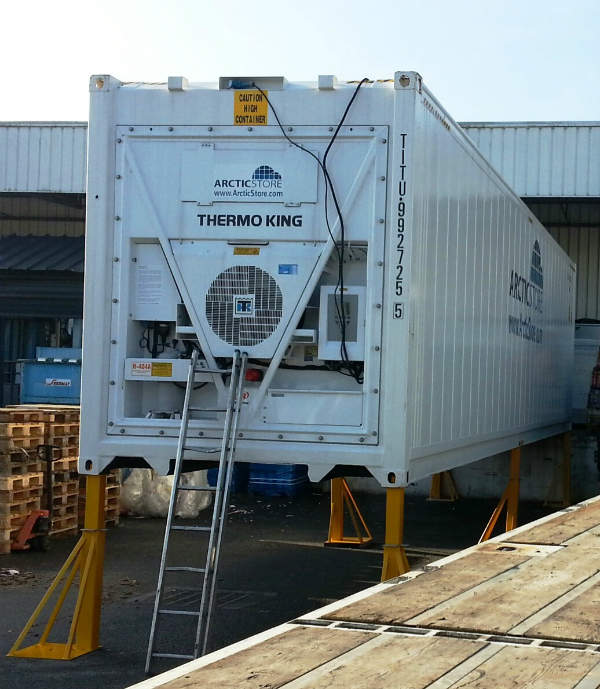 For direct access from a permanent facility, ArcticStore containers can be loaded at specific heights.
Precise temperature control and hygiene for storage containers
For temperature settings from -40°C to 30°C, we use new technology container machinery from leading manufacturers with worldwide service networks. Extreme refrigeration (below -40°C) and heating (from 30°C to 60°C) solutions incorporate specific plants to meet the challenge.
Over the years, many ArcticStores have been successfully temperature-mapped by pharma businesses to meet stringent temperature controls, with all containers FDA-approved. Most models feature an inbuilt data logger.
Air temperature reduction time (to the set point) is fast after a temporary increase in temperature resulting from opening the doors and there are additional sensor sockets in many models. Remote monitoring can also be installed. Atmosphere and humidity control is also available for many models. ArcticStores can, under certain circumstances, also be used for cooling and thawing processes.
The interiors are extremely hygienic and easy to keep clean. Food grade stainless steel interior panels with flat aluminium floors ensure the right environment for almost all products. Any sealants used internally have been tested and approved for use.
Emergency and planned cold storage solutions
There can be many reasons for a shortage of storage capacity at the factory or elsewhere in the cold chain, these include breakdowns, new products or ingredients, increased volumes and alternative temperature requirements to the established storage facilities.
Same day delivery of ArcticStores is available in many European and some other countries, otherwise the maximum lead time for ArcticStores in often less than one to three weeks, and for six to 12 weeks for SuperStores. The more notice we are given, the less expensive the solution will be; however, even when clients are unable to plan in advance, we will always do our best to provide the solution.
ArcticStores are self-supporting and need nothing more than reasonably flat ground and 380V / 440V 2 phase power supply. We can also locate ArcticStores at loading bay height or connected to a building.
User-friendly shipping containers
ArcticStores are not standard shipping containers. Over the years, we have perfected the design of these sophisticated storage units to benefit users and our customers.
The doors are easy opening, one hand-operated with sliding air curtains inside, and with the door handle at the right height. The door can even be opened from the inside. Flat aluminium floors permit the easy-use of all material handling equipment, including container size fork lift trucks. Internal lighting and man trap alarm are standard installations.
Refrigeration plants include an automatic de-icing programme and a self-diagnostic routine with automatic alarms on possible system faults. Manual de-icing, change of temperature setting, and monitoring performance are easy-to-learn functions. In many countries, we offer a 24/7 service call out.
A range of accessories are also available, including ground-to-floor level ramps, acoustic cabins for residential area use within the permitted DB emission levels and support legs for placing containers at loading bay height.
Hire and sale of temperature-controlled containers
ArcticStores and SuperStores can be delivered worldwide on sale or rental basis. In certain countries, we also offer self-storage with temperature control. Where TITAN is locally represented, there is no minimum hire period for ArcticStores, elsewhere and with SuperStore rentals minimum rental periods are likely to apply.
In addition to the above products and services, TITAN offers the most extensive range of ambient storage containers, as well as containers for offshore use and many types of office, workshop and accommodation containers.