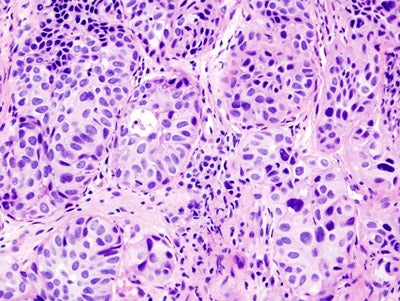 Blackstone Life Sciences and Ferring Pharmaceuticals have jointly invested $570m in the latter's late-stage gene therapy candidate for bladder cancer.
The drug in question, nadogaragene firadenovec, has been spun out into newly created Ferring subsidiary FerGene, which will be responsible for potential US commercialisation following approval and global clinical development.
Blackstone will contribute $400m, while Ferring will invest up to $170m in FerGene and nadogaragene firadenovec. If the drug is approved, FerGene will hold the marketing authorisation.
The treatment is indicated for patients with high-grade, Bacillus Calmette-Guérin (BCG) unresponsive, non-muscle invasive bladder cancer (NMIBC) and is currently in Phase III trials; results are expected to be presented at the Society of Urologic Oncology 20th Annual Meeting in December.
BCG is the standard of care for NMIBC patients, but research shows that in approximately 60% of cases the tumours re-occur, so this type of bladder cancer represents an unmet medical need.
Ferring chairman Frederik Paulsen said: "Bringing a novel gene therapy to the market requires dedicated focus and capabilities, and FerGene, a Ferring company, will have the resources and team needed to help us potentially bring nadofaragene firadenovec to patients.
"Through this new joint financing model between Ferring and Blackstone Life Sciences, we aim to ensure more people with high-grade, BGC unresponsive, non-muscle invasive bladder cancer may benefit from this novel gene therapy if approved."
Blackstone managing director Paris Panayiotopoulos added: "Through FerGene, Blackstone and Ferring's goal is to successfully commercialize and further develop this adenovirally mediated interferon alpha-2b gene therapy, a potential breakthrough treatment for high-grade, BCG unresponsive, non-muscle invasive bladder cancer patients."
The therapy has received breakthrough therapy designation from the US Food and Drug Administration (FDA), which is also conducting a priority review Ferring's biologics license application for the gene therapy.
Nadogaragene firadenovec is an adenovirus vector-based gene therapy containing the gene interferon alpha-2b. It is administered by catheter into the bladder on a quarterly basis. Introducing this gene to bladder cells leads to cells secreting high quantities of interferon alpha-2b protein, which are one of the body's natural defences against cancer.