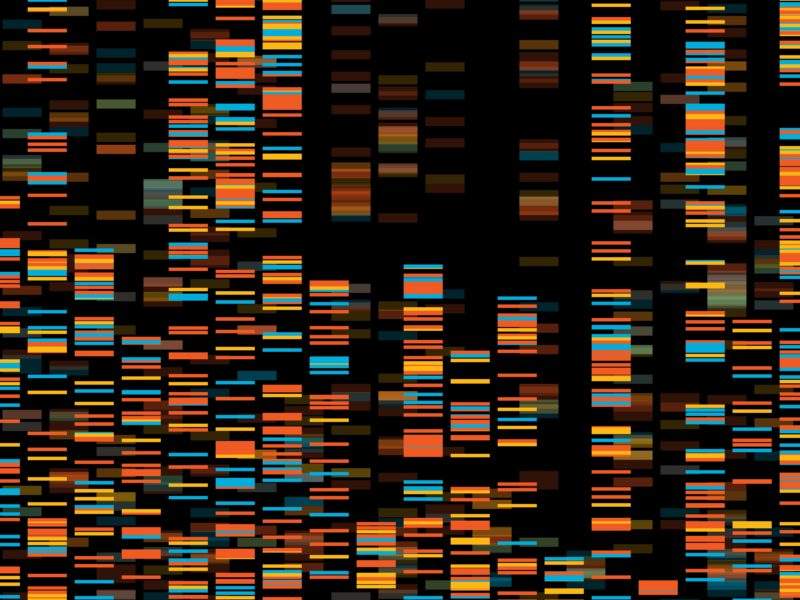 Hot on the heels of the success of the NHS's 100,000 Genomes Project, which is currently 70% complete and expected to be finished by the end of 2018, NHS England will launch the NHS Genomic Medicine Service in October this year, "making the NHS the first healthcare system in the world to systematically introduce whole genome sequencing into healthcare", as NHS England's chief scientific officer Professor Sue Hill told the Genomics Education Programme in January this year.
The NHS Genomic Medicine Service aims to bring equitable access to genetic and genomic testing to patients in England. It will integrate the scientific technique of genome sequencing into the country's unified healthcare system to help improve the diagnosis and treatment of cancer and rare, genetic diseases.
International scientific efforts to study and sequence the human genome began in the 1970s. However, it wasn't until 2003 and £2bn later that every letter of the genetic code, approximately three billion in total, were read and sequenced. Now a person's genome can be sequenced in a few days and it costs around £1,000.
This incredible achievement allowed scientists to understand not only the 20,000 genes that exist and are currently used in drug development, but the whole genome, which also includes the DNA in the gaps between the genes.
Uses of genomics in healthcare
Access to a patient's entire genetic code has a range of valuable uses in healthcare. The technique has the most therapeutic success when it is combined with healthcare data on the patient, including their symptoms, when they started and physiological measurements.
Genomics can be used to create targeted therapies because it can predict how well a person will respond to treatment, and therefore, find the treatment option that works best for that specific patient. For example, genomics is currently used to determine if a woman's breast cancer is HER2 positive, and therefore determine if Herceptin will be effective at treating the cancer.
In addition, genomics can be used to track and treat infections, such as tuberculosis and MRSA, and help with diagnosis. It primarily does this by looking at similarities and differences between many people's genomes.
Building on the 100,000 Genomes project
Awareness of expanding medical applications of genome sequencing led to the Department of Health and Social Care setting up Genomics England in 2012 to oversee the newly launched 100,000 Genomes project, the largest national sequencing project in the world.
As its name suggests, the aim of the project is to sequence 100,000 genomes from 70,000 patients with either a rare disease or with cancer in England. Since rare diseases are often genetic, two close family members of each patient were also included in the project.
Cancer is initiated by a change in genes within a normal cell. These cells then mutate, which allows the cancerous tumour to grow and spread. By taking DNA from a tumour and comparing it with DNA from the patient's normal cells, the precise mutation can be detected and treatment options can be evaluated for effectiveness.
Genomics England estimates that 80% of rare diseases are genetic, so knowing the entire genome sequence can help to identify the cause of some rare diseases and pinpoint new targets for treatments.
Combining the genomic sequencing data with the extensive medical records held on patients by the NHS is a "ground-breaking resource", according to Genomics England, because it improves understanding of the complex relationship between genes that cause the disease to develop.
It seems this project was always intended to be expanded beyond the 100,000 genomes; it was seen as a way to kick-start the UK genomics industry.
According to a research paper in the Personalised Medicine journal written by NHS England chairman Sir Malcolm Grant and special advisor to Professor Hill John Paul Maytum, the 100,000 Genomes project was crucial in embedding genome sequencing into routine hospital care.
This is because it created genomic-friendly pathways, changed how samples are collected and handled, upskilled NHS staff in the technique, and, finally, created common standards and protocols used across the England's NHS hospitals.
Hill, who won a Damehood for her services to the 100,000 Genomes project in the Queen's 2018 birthday honours, said: "The results coming back to patients from the 100,000 Genomes Project will start to underline the power and potential of genomics to transform healthcare as we currently know it. And we will see a more engaged and informed public, patients and health professionals, understanding the benefits of genomics for improved health outcomes."
Genomics England chief scientist Mark Caulfield said: "It has already changed the lives of many patients with cancer or a rare disease in the UK, and now this programme will expand to further transform genomic health in the NHS with improved outcomes for many more."
Understanding the NHS Genomic Medicine Service
The initial plans for the Genomic Medicine Service were laid out at NHS England's March 2017 board meeting.
It has five central tenets: a national genomic lab service through a network of hubs; a National Genomic Test Directory; a national whole genome sequencing provision with a related informatics infrastructure developed in partnership with Genomics England; clinical genomics services; and a national co-ordinating body within NHS England, to be called the Genomics Unit.
The National Genomic Test Directory is one of the most interesting elements of the NHS Genomic Medicine Service. It will specify for NHS doctors the tests that are available, the technology used and which patients are eligible to access the test. This system will be integrated into the National Genomics Informatics System from April 2019.
Initially, the NHS Genomic Medicine Service, like the 100,000 Genomes project, will focus purely on cancer and rare, diseases. However, the service is expected to evolve as genome sequencing technology improves and expand to include other therapeutic areas and recruit more patients.
In addition, whole genome sequencing by the service will only begin to be planned from October, and is expected to be operational by January 2019.
Whole genome sequencing, genomic testing for rare, inherited disorders and testing for inherited cancer will be paid for by NHS England. However, a national tariff payment system will be used to pay for conventional cancer genomic testing.
Responses to the NHS Genomic Medicine Service
The Association of the British Pharmaceutical Industry chief executive Mike Thompson said: "The Health Secretary's focus on earlier diagnosis and more personalised medicines for cancer and rare diseases is great news for patients and their families.
"Unlocking the secrets of the genome and increasing genomic testing will help us create a new generation of exciting new treatments and cures. The pharmaceutical industry looks forward to working with the Government and the NHS on these plans, including helping to develop the skills and expertise needed to ensure that the UK can become a world leader in genomic medicine."
Genetic Alliance UK chief executive Dr Jayne Spink said: "The NHS Genomic Medicine Service will be transformative to the way healthcare is delivered and most importantly to the patient experience of living with a rare disease. Faster and earlier diagnosis will bring access to the most appropriate care, treatment, information and support.
"Analysis of genomic data will bring innovative treatments to the clinic sooner. We are hopeful that today's launch of the service marks the beginning of a sea change for rare disease patients and their families."
James O'Shaughnessy, parliamentary under-secretary of state for health in the House of Lords, told Bio news in July said: "Genetic sequencing can revolutionise healthcare by offering truly personalised care to patients and their families.
"This project is a shining example of a partnership between the public sector, the life sciences industry and the research community – with NHS patients reaping the benefits."