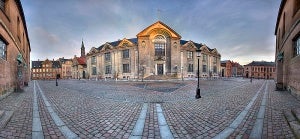 ExpreS2ion Biotechnologies, Mucosis and the University of Copenhagen have collectively been awarded a grant of €1m by Eurostars for the development of a placental malaria vaccine.
Biotech companies ExpreS2ion and Mucosis will apply new vaccine technologies they have developed to a malaria antigen developed at the University of Copenhagen and funded by the Danish National Advanced Technology Foundation.
The companies intend to create a vaccine that will provide women in high-risk malaria areas with lifelong protection.
Mucosis's lead product, SynGEM, is a vaccine that prevents RSV viral infection using its proprietary Mimopath technology.
Mucosis CEO, Thomas Johnston, said; "This Eurostars funded collaboration will leverage the strengths of our Mimopath mucosal vaccine platform in combination with the contributions of our two prestigious partners in a high-burden disease area."
ExpreS2ion has developed ExpreS2, which allows quick access to proteins, excellent protein expression capability, scalability, applicability to high cell density production processes and regulatory friendliness
ExpreS2ion CEO, Charlotte Dyring, said; "We are excited that we have secured this grant and that we will be collaborating with Mucosis and their innovative vaccine delivery approaches, and with the team at UCPH that has discovered and progressed the new promising placental malaria vaccine antigen.
This collaboration will allow us to apply glycosylation engineering to the ExpreS2 platform, thus widening the potential of this efficient platform for production of recombinant proteins."
University of Copenhagen associate professor Dr Ali Salanti said; "In this new collaboration we will have the opportunity to apply novel vaccine technologies developed at Mucosis and Expres2ion to our malaria vaccine antigen developed at University of Copenhagen, with the aim to develop such a vaccine that can offer women long term protection against malaria."
---
Image: The University of Copenhagen, along with ExpreS2ion Biotechnologies and Mucosis, has been awarded a grant to develop a malaria vaccine. Photo: Courtesy of Mik Hartwell.