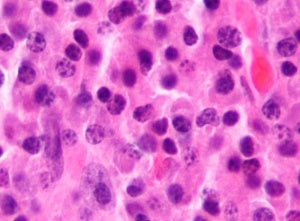 Canadian drug developer Aeterna Zentaris has been forced to discontinue its Phase III clinical trial of blood cancer drug perifosine after the Data Safety Monitoring Board (DSMB) said it was "highly unlikely the study would achieve a significant difference in its primary endpoint".
The news, announced yesterday by Aeterna, is a blow for the company, who were trialling perifosine against placebo, when combined with bortezomib (Velcade) and dexamethasone in patients with relapsed or relapsed / refractory multiple myeloma.
The DSMB decision was made based on the outcome of its pre-planned interim analysis of efficacy and safety.
It was recommended that patient enrolment be stopped and the study discontinued, as it was unlikely to meet its primary endpoint of progression free survival.
However, no safety concerns were raised.
Aeterna Zentaris President and CEO Dr Juergen Engel said the oncology and endocrinology drug development company were disappointed with the outcome of the interim analysis, but will continue to focus on other opportunities.
Engel, in a press statement, said; "We remain focused on other significant opportunities such as our Phase III trial in endometrial cancer and Phase 2 trials in breast, prostate and bladder cancer with AEZS-108, our NDA filing for AEZS-130 as an oral diagnostic test for growth hormone deficiency in adults, as well as our earlier-stage oncology compound, AEZS-120."
Aeterna Zentaris shares dropped 30% when it was announced the trial will be discontinued.
Perifosene, which is still being developed for other cancers such as neuroblastoma and renal cell carcinoma, also failed a Phase III clinical trial for patients with colon cancer last year.
---
Image: Micrograph of a hematological malignancy, plasmacytoma. Photo: Courtesy of Nephron.