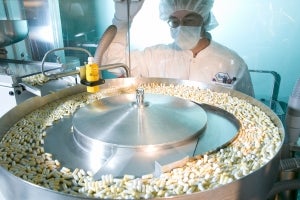 Scientists in the US and Australia have revealed that the newly-approved Zelboraf (Vemurafenib) nearly doubles median survival times of people with metastatic melanoma.
An international phase II study of the drug, developed by Roche and Plexxikon, involved 132 patients with an advanced form of melanoma that has spread to other organs.
Results showed that the patients survived an average of 15.9 months, compared with nine months on conventional treatment.
Dr Antoni Ribas, a professor of hematology/oncology and a researcher at the University of Los Angeles' Jonsson Cancer Center, said, "This data is beyond what I would have expected. We're seeing a significant number of patients with durable responses to the drug, and that the whole group of treated patients is living longer. These results tell us that this drug is having a very big impact, and this changes the way we treat metastatic melanoma."
Zelboraf was approved for the treatment of late-stage melanoma by the US Food and Drug Administration in August 2011 and the European Commission earlier this month.
The drug is designed to selectively inhibit the BRAF mutation that occurs in about half of all cases of melanoma.
The main limitation with Zelboraf is that tumors eventually become resistant. But Jonsson Cancer Center researchers are studying this resistance and have uncovered several mechanisms by which the cancer gets around Zelboraf.
Dr Jeffrey Sosman, co-principal on the study and director of the melanoma programme at the Vanderbilt-Ingram Cancer Center in Tennesee said, "While the problem of relapse and resistance is great, this study provides evidence that in some patients, their melanoma is controlled for over two years on the medication."
Caption: Roche has been approved by the FDA and European Commission to manufacturer Zelboraf. Credit: Roche