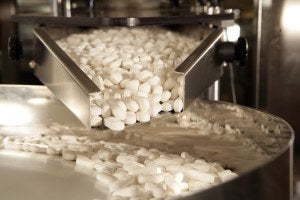 Aspen Pharmacare, a multinational South African drug maker, will acquire a portfolio of pharmaceutical products from GlaxoSmithKline for R2.2bn ($268m).
The company will purchase 25 brands including Augmentin antibiotic tablets; Valtrex, a once-daily herpes medication; Zaltrac, used to treat and prevent stomach ulcers; and pain-relief drug Imigran.
The products will then be distributed in Australia once approval has been granted by Australian competition authorities and the Australian Foreign Investment Review Board.
GlaxoSmithKline, an 18.6% shareholder of Aspen, said in a statement that revenues for these products have "gradually declined" in recent years due to local market price conditions and generic competition.
The divestment is expected to be completed in Q4 2012.
The purchase will be funded from new offshore debt facilities and will boost earnings in the year ending June 2013, Aspen said. Existing manufacturing arrangements for the products will be assumed by Aspen Global.
---
Image: GSK has sold 25 of its brands to Aspen, including Augmentin tablets (pictured). Photo: Courtesy of GSK.