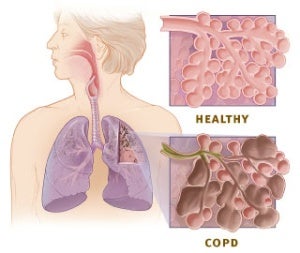 The UK's second largest drug company, AstraZeneca, has announced that it will buy US-based lung disease drug specialist Pearl Therapeutics in a deal worth up to $1.15bn (£742m).
AstraZeneca said it will pay $560m initially, and then $450m subject to drug development milestones.
The company could also make an additional sales-related payment of up to $140m.
Pearl, a California-based privately-owned company, specialises in the treatment of lung disease and asthma.
AstraZeneca's acquisition will give the company a place in the emerging market for a new class of lung treatments, which are known as LABA / LAMA drugs.
This type of drug, which is administered via an inhaler, is used in the treatment of chronic obstructive pulmonary disease, a condition that affects about 210 million people worldwide.
AstraZeneca has identified respiratory treatments as a core part of its business, however, the company has recently suffered plummeting profits.
Berenberg analysts today announced they were recommending a 'hold' on AstraZeneca plc, meaning the company should not be bought into or sold, following CEO Pascal Soriot's strategic priorities review earlier this year aimed at returning AstraZeneca to growth.
Berenberg analyst Alistair Campbell said they were issuing this advice due to Astra's weak Phase III pipeline in the face of major patent expiries, but that its Phase II pipeline holds at least five high-potential drugs, which the CEO wants to accelerate to market.
He also adds that Berenberg can see upside optionality in Pascal's recovery plan, but that even excellent delivery does not offer a sufficient upside to make the shares buyable.
Several of AstraZeneca's leading drugs, such as anti-psychotic Seroquel and anti-cholesterol Crestor, have lost their patent protection, enabling cheaper versions from other companies to come onto the market.
The company also suffered a blow after it was forced to write off $140m because of a failed arthritis drug.
In a bid to streamline its business, AstraZeneca is preparing to cut 5,000 jobs by 2016, and is aiming to expand through acquisitions.
---
Image: Pearl specialises in the treatment of lung disease and asthma. Photo: Courtesy of National Institute of Health.