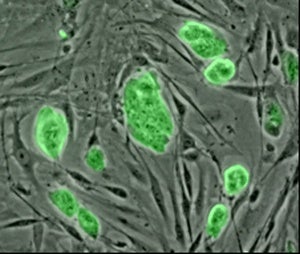 A commercial spin-out company from the University of Cambridge will provide stem cells made from reprogrammed skin cells to the drug discovery and regenerative medicine sectors.
DefiniGEN, established in April 2012, uses research conducted by Dr Ludovic Vallier, Dr Tamir Rashid and Professor Roger, Dr Nick Hannan and Dr Candy Cho of the Laboratory of Medicine.
Dr Vallier and his team's research involves using an established method to convert induced pluripotent stem cells (hIPSC) into different types of cells in order to generate human liver cells in a way that can be easily replicated and made easily available.
DefiniGEN will make these cells widely available which could reduce the cost and time-consuming process of developing new drugs.
The company believes its cells will help establish whether a new drug is toxic to the liver. The liver is the key organ for metabolising drugs and removing toxins from the body, and can often be affected by toxic compounds.
"If a drugs' failure occurs in the clinical phase of development, a great deal of time and money will have been lost," said Vallier. "Therefore, identifying toxic drugs as early as possible is vital to the efficiency and safety of the drug discovery process."
Currently, either primary human hepatocytes or immortalised cell lines are used for toxicity testing. However, primary hepatocytes have a high degree of batch-to-batch variation, are expensive and difficult to obtain in suitable quantities, while immortalised cell lines are an inferior model for toxicity testing.
Whereas DefiniGEN say their hIPSC-derived cells show many of the functional characteristics of primary cells, are highly reproducible and can be made in large quantities, making them ideal for toxicity testing.
This technology can also be used to effectively model a diverse range of inherited liver diseases for testing new drugs and potentially accelerate the development of new therapies for these conditions.
---
Image: DefiniGEN uses stem cells made from reprogrammed skin cells. Photo: Courtesy of the National Science Foundation.