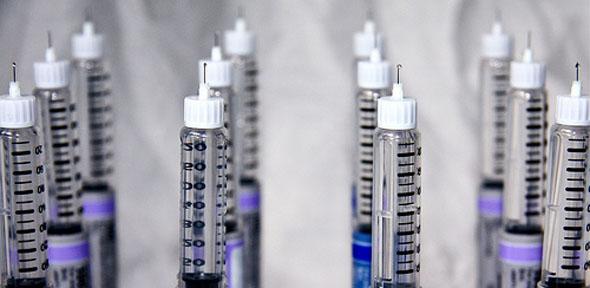 Scientists in the UK are testing whether a well-known cancer treatment could be used to treat patients with type 1 diabetes and reduce the need for insulin from several times a day to just once a week.
Researchers at the University of Cambridge are investigating whether interleukin-2 in the form of Proleukin (aldesleukin), a drug manufactured by Prometheus Laboratories and currently used to treat melanoma and kidney cancer, could be used to halt the damage to the pancreas in people with newly-diagnosed type 1 diabetes.
Interleukin-2 is a protein that regulates the activities of white blood cells.
The aim of the human trial is to use Proleukin to rebalance the immune system so that patients can significantly reduce the number of insulin injections needed to just once or twice a week by slowing the progression of the disease.
The first two participants have been enrolled onto the trial and received treatment.
Study lead author Dr Frank Waldron-Lynch says that so far the results have been very positive, even on a very low dose, with no detectable side-effects.
However, the organisers are looking to recruit more participants to the adaptive study of IL-2 dose on regulatory T cells in type 1 diabetes (DILT1D) to help them determine with confidence whether the drug is effective, and at what dose.
The trial is being funded by the Wellcome Trust and type 1 diabetes charity JDRF, as well as the National Institute of Health Research, a UK government body that coordinates and funds research for the National Health Service.
---
Image: The new treatment could improve the lives of people with type 1 diabetes. Photo: Courtesy of the University of Cambridge.