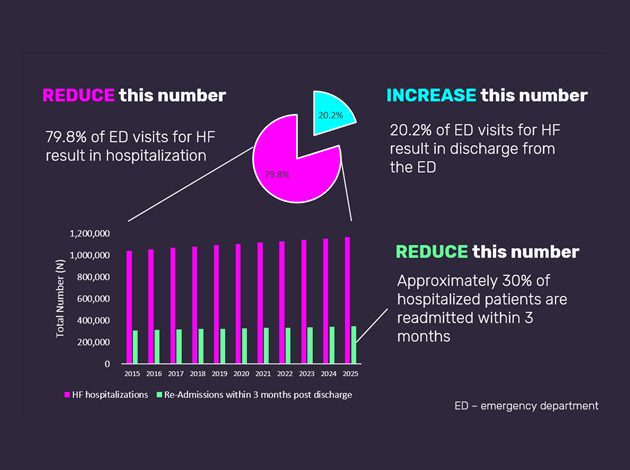 Over one million Americans are hospitalized for heart failure (HF) each year. This results in a poor prognosis for patients and places a significant financial burden on the US healthcare system. According to GlobalData, this number is set to increase over the coming years. Unfortunately, this is a trend plaguing not only the US, but also other mature markets and emerging markets globally. As a result, the future sustainability of healthcare systems worldwide has come under immense scrutiny.
GlobalData believes that improved healthcare delivery will result in long term reductions in healthcare expenditure and improvements in patient outcomes.
Increasing the number of patients who are discharged after an initial emergency department (ED) visit due to HF has huge potential to reduce healthcare costs by directly reducing total hospitalizations. This can be achieved through improved risk stratification of patients with acute HF based on updating clinical guidelines. Currently the 20.2% of patients who are discharged from the ED correspond to low risk patients. Of the remaining 79.8% who are hospitalized for HF, approximately 80–85% represent intermediate risk patients. Thus, through improved risk stratification, low-to-intermediate risk patients can be identified and discharged post-ED visit, reducing the total number of patients who are hospitalized with HF.
In order to reduce long term costs associated with HF hospitalizations, improved patient care and healthcare delivery is essential. Thus, for patients discharged post-ED visit or post-hospitalization, improvements in outpatient care need to be made. Recently, some nurse- and/or pharmacist-led programs have demonstrated strong improvements in patient outcomes, reducing 30 day readmission rates. Key components of these programs have been patient education, specifically focusing on compliance, disease knowledge, and diet, as well as timely patient follow up, either through specialist nurse phone calls, clinic visits, or home visits.
Implementation of such initiatives will require heavy funding, but it is clear that early investments in better healthcare delivery in the acute HF setting will lead to long term savings in healthcare expenditure.
Related report
PharmaPoint: Heart Failure – Global Drug Forecast and Market Analysis to 2025
GlobalData estimates sales of HF therapeutics to be approximately $3.2B across the 7MM in 2015, encompassing the US, 5EU, and Japan. The HF market will grow at a strong CAGR of 13.5% over the forecast period, reaching sales of $11.5B by 2025.