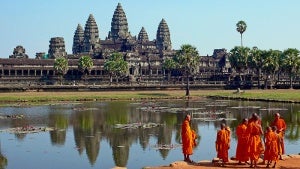 DKSH has landed a contract with biopharmaceutical giant Pfizer to provide the company with commercial and distribution services in Cambodia.
The market expansion provider, which specialises in Asia, will manage marketing and sales, logistics, distribution, credit management and collection services.
Pfizer finance director and Indochina general manager Pichitchai Jakisan said; "We chose DKSH as it has a well-established nationwide infrastructure in Cambodia, well-trained local staff and an in-depth understanding of the Cambodian market."
In January, Pfizer Thailand appointed DKSH as the sole nationwide distributor for all its pharmaceutical products in Cambodia.
DKSH, which is headquartered in Zurich, has 680 business locations in 35 countries; 660 of them in Asia.
"We believe our partnership with DKSH will translate into wider and easier access to our high quality medicines in Cambodia so that more people will benefit from our healthcare innovations," Jakisan said.
DKSH Cambodia Business Unit Healthcare general manager Nicolas Chabanier said; "We are proud to provide Pfizer with our integrated market expansion services to support the company's expansion in Cambodia."
---
Image: DKSH will run Pfizer's marketing and distribution in Cambodia, which is famous for its Angkor Wat temple. Photo: Courtesy of Sam Garza.