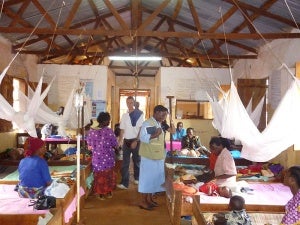 The US Food and Drug Administration has launched a public-private partnership to help combat the use of counterfeit or substandard anti-malarial medicines, the agency announced on Wednesday.
The new partnership will involve the deployment of an FDA-developed handheld counterfeit detection device, called CD-3, in Africa and parts of southeast Asia, where the rates of malaria infection are high, and where counterfeit anti-malarial medicines are prevalent.
The FDA said it has established a partnership with the Skoll Global Threats Fund, the US Pharmacopeia (USP), the National Institutes of Health (NIH), the Centers for Disease Control and Prevention (CDC) and the multi-agency President's Malaria Initiative (PMI), led by the US Agency for International Development (USAID).
The partnership will focus on testing and optimising the use of the handheld CD-3 to identify fake or substandard drugs.
More than 660,000 people globally each year are killed by malaria, and most of these are children.
Factors such as increased distribution of counterfeit or substandard anti-malarial drugs and limited availability of medication pose huge challenges in treating the disease.
Fake or substandard medicines often have too little, or no active ingredient at all, preventing patients from receiving adequate and timely treatment, and ultimately making the disease harder to treat, even with conventional medicines.
"The partnership will focus on testing and optimising the use of the handheld CD-3 to identify fake or substandard drugs."
FDA commissioner Dr Margaret A Hamburg said; "The development of the CD-3 and the formation of this important partnership are critical steps toward the FDA's goal of improving the global product safety net in order to protect consumers in the US and worldwide."
The handheld device was developed by scientists at the FDA's Forensic Chemistry Center in Cincinnati, Ohio, and it has been in use since 2010 in their laboratory, as well as in a number of international mail facilities in the US.
It works by illuminating a product with a variety of wavelengths of light to provide a visual comparison of an unverified product with an authentic sample, allowing inspectors to identify suspect products and remove them from the supply chain.
The effectiveness of the tool in detecting counterfeit or substandard versions of two common anti-malarial therapies will be tested in Ghana in 2013 and 2014.
The FDA also announced that it has signed a letter of intent with Corning Incorporated to refine and improve the tool for eventual manufacture on a larger scale.
"The proliferation of counterfeit or substandard medicines around the world is a major public health problem and the developing world is disproportionately affected," Hamburg said.
---
Image: Malaria clinic in Tanzania. Photo: Courtesy of Jeffrey Gluck.