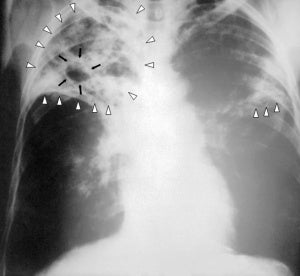 A new treatment for multi-drug resistant tuberculosis has been approved by the US Food and Drug Administration, the first in 40 years.
The drug is called Sirturo, but known chemically as bedaquiline.
Developed by Janssen Therapeutics, a division of Johnson & Johnson, the drug was approved via the FDA's fast-track drug approval scheme that helps promising drugs get to market quicker.
However, Sirturo's approval has come under some criticism as one of its listed side effects is the risk of potentially deadly heart problems. Doctors have been advised to administer it with caution.
Sirturo is the first drug to be part of a combination therapy to be administered to patients that have drug-resistant pulmonary TB when no other treatment is available.
It works by blocking an enzyme the disease pathogen needs to spread throughout the body.
"Multi-drug resistant tuberculosis poses a serious health threat throughout the world, and Sirturo provides much-needed treatment for patients who have don't have other therapeutic options available," said FDA Center for Drug Evaluation and Research Office of Antimicrobial Products director Dr Edward Cox.
"However, because the drug also carries some significant risks, doctors should make sure they use it appropriately and only in patients who don't have other treatment options."
Sirturo's safety and effectiveness was established in two Phase II clinical trials of 440 patients, designed to measure the length of time it took for a patient's sputum to be free of M.terberculosis, also known as sputum culture conversion, or SCC.
Patients in the first trial were randomly assigned to be treated with Sirturo plus other drugs used to treat TB, or a placebo plus other drugs used to treat TB. All patients in the second trial, which is ongoing, received Sirturo plus other TB drugs.
Results from the first trial showed patients treated with Sirturo combination therapy achieved SCC in a median time of 83 days, compared with 125 days in patients treated with placebo combination therapy. Results from the second trial showed the median time to SCC was 57 days, supporting the efficacy findings of the first trial.
Tuberculosis is one of the worlds leading killers with an estimated two billion people carrying the bacterial respiratory infection. Nine million people live with an active form of the disease – of these about half a million are caused by multi-drug resistant tuberculosis.
Multi-drug resistant tuberculosis manifests when the disease pathogen Mycobacterium tuberculosis becomes resistant to isonazid and rifampin, the two drugs most widely used to treat TB.
---
Image: TB effects an estimated two billion people around the world. Photo: Courtesy of Centers for Disease Control and Prevention.