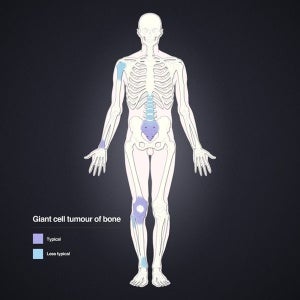 The US Food and Drug Administration yesterday announced that it has expanded the approved use of Amgen's Xgeva to cover the treatment of giant cell tumour of the bone (GCTB), a rare and usually non-cancerous tumour.
GCTB destroys normal bone as it grows in adults, usually between the ages of 20 and 40 years old. Usually, it does not spread to other parts of the body, but it can cause pain, limited motion and bone fractures.
The safety and effectiveness of Xgeva was established in two clinical trials involving 305 adult or adolescent patients with confirmed cases of GCTB that were recurrent, unresectable or where surgery would result in severe morbidity.
Out of th 187 patients with measurable tumours, 47 patients' tumours reduced in size after an average of three months. Over an average follow-up duration of 20 months, re-growth of GCTB occurred in three patients whose tumours originally became smaller during treatment.
The FDA reviewed Xgeva under its priority review programme, and granted it orphan product designation because it is intended to treat a rare disease or condition.
Xgeva is a monoclonal antibody that works by binding to RANKL, a protein that is essential for maintenance of healthy bone. RANKL is also present in GCTB.
FDA Center for Drug Evaluation and Research Office of Hematology and Oncology Products director Dr Richard Pazdur said; "Today's approval of Xgeva provides a needed treatment option for patients with GCTB who are not surgical candidates or who would otherwise have to undergo extensive, life-altering surgery."
Xgeva was approved in 2010 to prevent fractures when cancer has spread to the bones.
---
Image: Xgeva was ornginally approved in 2010 to prevent fractures when cancer has spread to the bones. Photo: Courtesy of Frank Gaillard.