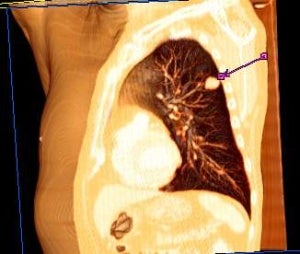 An engineered antibody cancer drug being developed by Genentech, a member of the Roche Group, was found to be safe and effective for several cancers in a Phase I study.
The drug, MPDL3280A, displayed anti-tumour activity across a number of cancers, including lung, kidney, colon and stomach cancers.
It is designed to spur the body's immune system into fighting cancer cells by targeting a protein called programmed death-ligand 1 (PD-L1), which is found on the surface of many cancer cells and impairs the immune system's ability to fight cancer.
To do this, MPDL3280A binds with and blocks PD-L1.
The full results of the Phase I study, involving 30 patients with advanced cancer, were presented at the American Association for Cancer Research meeting in Washington, US, on Monday.
Pinnacle Oncology Hematology research director Dr Michael S Gordon said; "Our PD-L1 antibody was well tolerated, and there were no limiting toxicities."
"It was active with antitumor activity across a broad range of cancers, and we have developed biomarker tools that we are testing, which may allow us to optimise patient selection for this novel therapy."
During the small-scale trial, patients were given an escalating dose of the drug once every three weeks. The dose rose from 0.01mg/kg to as high as 20mg/kg.
Gordon said no adverse side effects limited them from escalating the drug.
Although the drug is in early trial stages and will require further, much larger trials, Gordon said the outlook is very positive.
"From a therapeutic standpoint, we were able to identify a number of patients with a broad range of diseases, including lung cancer, kidney cancer, colon cancer and stomach cancer, who responded to the treatment," he said.
---
Image: Lung cancer is one of the cancers scientists hope MPDL3280A will be able to treat in the future. Photo: Courtesy of Lange123.