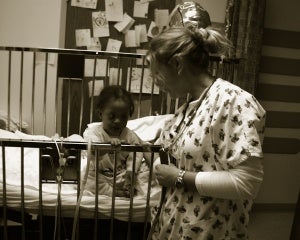 Pregnant women in the UK will be offered a vaccine against whooping cough after a four-fold increase in cases of the bacterial infection since 2011.
The UK Health Protection Agency (HPA) are advising pregnant women to ask their doctor for the vaccine after recording nine deaths of infants under four months old this year alone.
The total number of recorded cases up to the end of August this year is 4,791, which is significantly higher than the 1,118 recorded in 2011, and the 908 recorded in 2008 – the last peak year before the current outbreak.
The HPA has said this years actual figure could be higher, as it is only taken from confirmed cases, whereas there may be instances where the HPA have not received samples for testing.
There have been 302 cases of whooping cough in infants below three months in this year alone.
Infants are not normally vaccinated until between two and four months, but the HPA are advising vaccination for pregnant women to boost short-term immunity passed on from mother to baby in the womb.
Head of immunisation at the HPA, Dr Mary Ramsay, said; "We have been very concerned about the continuing increase in whooping cough cases and related deaths. We welcome the urgent measure from the Department of Health to minimise the harm from whooping cough, particularly in young infants, and we encourage all pregnant women to ensure they receive the vaccination to give their baby the best protection against whooping cough."
The temporary vaccination programme will begin next week, and the HPA are advising women who have already been vaccinated to have the treatment again to boost their immunity.
The Committee on Vaccination and Immunisation, the Government's independent vaccine experts, decided the vaccination should be given to 650,000 women a year who are between 28 and 38 weeks of pregnancy.
Whooping cough can affect people of all ages, however, infants are particularly vulnerable from severe complications leading to death, as they do not complete the course of vaccines until they are four months old.
Whooping cough, which is also known as pertussis, can be spread easily by airborne transmission.
---
Photo: Nine infants have died of whooping cough in 2012 alone. Image: Courtesy of Weatherbox.