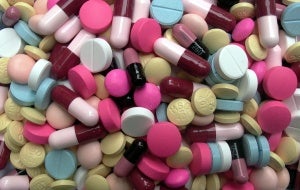 A government panel in India has suggested that the prices of patented pharmaceutical drugs be based on the country's per capita income, which could greatly reduce the cost of drugs produced by global pharma companies.
Under the Ministry of Chemicals and Fertilizers, a panel has recommended setting up a committee to negotiate with drug makers to adjust prices of expensive but vital drugs used by patients with cancer, HIV and hepatitis, reported Reuters
It is thought such a mover could anger global pharmaceutical companies, who have had clashes with India's government before over intellectual property.
The new proposal was posted on the ministry's website on Monday and is part of a bid to make drugs cheaper for its 1.2bn population.
In the posting, the ministry cites lung cancer drug erlotinib HCL, sold by Roche Holding AG as Tarceva, as an example.
The drug costs INR 35,450 ($660) for one month of 100 mg tablets, equivalent to INR 121,085 ($2,250) in France and INR 121,650 ($2,260) in Australia.
"If we compare the per-capita income with the prices of patented medicines in countries like Australia or France, prices in India are comparatively high and hence, they need to be regulated," a senior ministry official, who declined to be identified, told Reuters.
Though this latest move from the government is aimed at making global drugs more accessible, some say it could actually stop global pharma bringing the latest drugs to India.
"If stringent price regulations are enforced then latest drugs will not be made available in India," Ameet Hariani, a managing partner at Hariani & Co, a Mumbai-based law firm that advises drugmakers and other companies, told Reuters.
Generic medicines account for more than 90% of India's $13bn pharma market, with US-based Abbott Laboratories taking up the largest share of the market, followed by India's Cipla.
---
Image: Generic medicines account for more than 90% of India's $13bn pharma market. Photo: Courtesy of Adam Ciesielski.