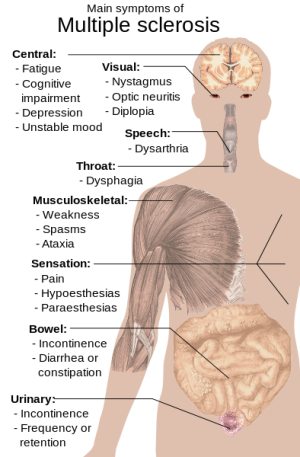 A study into Novartis' Gilenya (fingolimod) for the treatment of multiple sclerosis (MS) showed that it positively impacted on the key measures for MS: relapse rates, brain volume loss, lesions and disability progression.
These new findings, which will be presented at the 23rd meeting of the European Neurological Society (ENS), showed that a greater proportion of patients with relapsing multiple sclerosis (RMS) were disease-free after one year on Gilenya, compared to the same period of interferon treatment.
The study showed that for patients on interferon, the proportion who were disease free during the second year increased after they were switched from interferon to Gilenya, suggesting that such a switch is beneficial for RMS patients.
Novartis Pharmaceuticals global head of development Dr Timothy Wright said; "There is currently no cure for MS, and therefore it is imperative that treatments work positively to limit symptoms, disease activity and ultimately disease progression, thus reducing the burden for patients."
In separate analysis, it was discovered that patients with high disease activity who were switched to Gilenya from interferon experienced improved disease measures, such as reduction in the amount of brain volume loss, regardless of their previous treatment.
"These new analyses are very encouraging in that they not only support the role of Gilenya as having an anti-inflammatory effect but also highlight how Gilenya can improve the key measures of this debilitating disease," added Wright.
Multiple sclerosis (MS) is an autoimmune disease of the central nervous system (CNS) that causes the body to turn against itself by mistaking normal cells for foreign cells.
About 2.5 million people around the world are affected by MS, most often younger people between the ages of 20 and 40.
Gilenya is the first once-daily oral therapy approved to treat relapsing forms of MS and the first in a new class of compounds called sphingosine 1-phosphate receptor modulators.
The drug works by affecting the immune system to reduce inflammatory damage and the central nervous system to promote neuroprotection and repair.
Approximately 63,000 patients have been treated with Gilenya so far.
Novartis said further presentations at ENS will show how the targeted effect of Gilenya on the central nervous system is considered to contribute anti-inflammatory effects in MS and to also support a positive benefit-risk profile for Gilenya.
---
Image: Approximately 63,000 patients have been treated with Gilenya so far. Photo: Courtesy of Mikael Häggström.