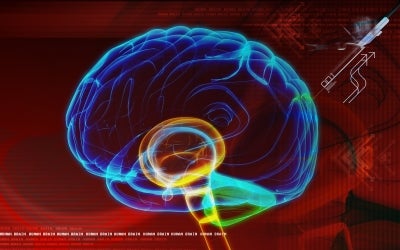 A new drug could reduce ischaemic brain damage caused by strokes, doctors in Canada and the US have discovered.
A safety trial carried out in 14 hospitals suggests that the neuroprotectant drug NA-1 is safe to use and that it should be investigated in larger trials.
In the study, 185 patients aged 18 years and over were randomly allocated an intravenous infusion of either NA-1 or salty water after an endovascular procedure to repair a brain aneurysm or a weakend blood vessel which could rupture.
Because the procedure limits the blood flow to the patient's brain, it often causes small strokes, resulting in damaged areas of brain tissue.
The findings, published in the journal Lancet Neurology, showed that patients in the NA-1 group sustained fewer regions of damaged brain tissue – caused by restricted blood flow to the brain – than patients in the placebo group.
Two minor adverse events occurred during the trial, but no serious adverse events were attributable to NA-1, the study showed.
Dr Markku Kaste of Helsinki University said further research is needed to determine the effectiveness of NA-1.
"Only after such trials will we know whether NA-1 – or one of the other drugs which have shown comparable effects – is the long-awaited holy grail for the treatment of patients with ischaemic stroke," Kaste said.
---
Image: NA-1 was able to limit brain damage during a trial in the US and Canada. Image courtesy of FreeDigitalPhotos.net.