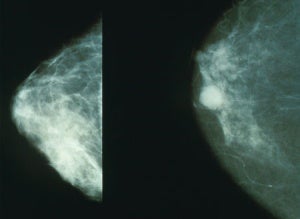 A new breast cancer drug that has just been approved by the European Medicines Agency (EMA) is being hailed by cancer charities as the biggest significant breakthrough in treatment for patients since Herceptin.
Perjeta, which is manufactured by Roche, has shown to cut the chance of patients dying within three years of starting treatment by a third.
The fifth of patients who are suitable for treatment – patients with particularly high levels of the HER2 protein in their cells – take the drug in combination with Herceptin.
The EMA has just given permission for Roche to market the drug, and although it is available in the UK through the Cancer Drugs Fund, the National Institute for Health and Clinical Excellence (Nice), which rations expensive drugs, is still considering whether to make it standard treatment on the UK and Wales NHS.
The drug costs £31,135 for a year's supply.
Breast Cancer Campaign chief executive Baroness Delyth Morgan said in a statement released today; "This is a good day for women with HER2 positive breast cancer. Perjeta has the potential to bring…extension of life to around 2,000 women with advanced breast cancer each year… Perjeta should be made available to all women who will benefit from it as soon as possible."
Perjeta, a HER2 dimerisation inhibitor, prevents tumour cells from getting around the 'blocking' effect of Herceptin.
A trial combing Perjeta with Herceptin and chemotherapy cut patients' chance of dying within three years by 34%, compared to using Herceptin and chemotherapy alone.
Breast Cancer Care charity clinical director Dr Emma Pennery, speaking to The Telegraph, said; "The priority now must be that Perjeta is made widely accessible across the UK as soon as possible for patients with secondary breast cancer whose lives could be extended from its use."
---
Image: Roche's new drug for the treatment of breast cancer, a scan of which can be seen here, is being hailed by cancer charities and the biggest new treatment since Herceptin. Photo: Courtesy of National Institutes of Health.