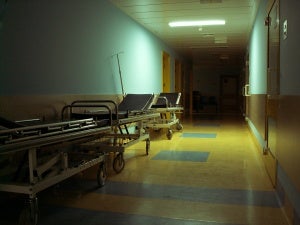 The UK's National Health Service has been accused of holding up discovery of novel drugs by denying patients information about new and ongoing clinical trials.
According to the chief executive of the NHS National Institute for Health Research, Dr Jonathan Sheffield, the NHS is "pretty poor" at referring patients for trials, reports the Guardian.
New research carried out by the NIHR revealed that out of 82 hospital sites visited 91% did not have any information about current clinical trials displayed in their reception or on notice boards.
Health charities have also voiced their concerns about the lack of patients informed about trials. These charities, which spend about £1bn a year on research, say they are frustrated because trials are often delayed or hampered by low patient participation due to the NHS failing to refer willing patients for trials.
Sheffield told the Guardian; "Our ability to introduce new treatments as standard is being hampered by the slowness with which we currently recruit patients into studies, so future generations of patients are losing out.
"The loss from the current situation is that new therapies take longer to be developed because there are fewer patients to form a study group."
The NIHR research also discovered that although 72 of the 82 hospital sites visited by a 'mystery shoppers' had receptionists, 46% of the receptionists were unhelpful or referred the mystery shopper to another department when asked who they should speak to in regards to taking part in medical research.
Furthermore, although 52% of the hospitals investigated had a part of its website dedicated to medical research, only 34% of the mystery shoppers found the information available useful to patients.
Despite the NIHR's findings, patient enrolment in clinical trials has risen from 208,200 in 2007 and 2008, to 595,540 in 2011 and 2012, with 99% of hospitals doing at least some research.
The Department of Health conceded the NHS could do more to ensure patients become involved in medical trials. A spokesperson told the Guardian; "We want to provide the most up-to-date, innovative treatment and medicines for our patients, and clinical trials play an important part in this.
"Promoting clinical research is a key priority, and we want patients to have the opportunity to get involved, should they want to. It is crucial that hospitals encourage and promote participation in clinical trials to help benefit thousands of patients and make the UK a world leader in health research."
---
Image: NHS hospitals have been found to lack information about ongoing drug trials. Photo: Courtesy of Mark Wagner.