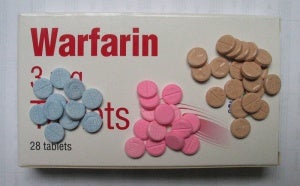 The UK's National Institute for Health and Clinical Excellence (NICE) has announced it is now recommending NHS doctors in England and Wales prescribe new drug apixaban for the prevention of stroke.
Apixaban, which is marketed under the name Eliquis, was given the go-ahead by officials 18 months after a clinical study found the new-generation stroke prevention drug cut the number of strokes by 21% and the number of major bleeds, including brain hemorrhage, by 31%, compared to warfarin, the current standard drug prescribed.
Deaths from all causes were 11% lower and, compared to taking nothing, apixaban cuts the risk of stroke by 80%.
The anticoagulant is one of three drugs newly recommend for stroke prevention by NICE. Rivaroxaban and dabigatran are also now available and, like apixaban, they cost just over £2 a day for treatment.
Apixaban, which was developed in a joint venture by Pfizer and Bristol-Myers Squibb, was also approved by US Food and Drug Administration (FDA) in December 2012.
It is believed at least a million people in Britain, mostly pensioners, have a heart condition called atrial fibrillation that can cause blood clots leading to a fatal stroke. In fact, atrial fibrillation can increase the chances of a stroke five fold, according to the Stroke Association.
Since the 1950s blood thinning drug warfarin has traditionally been prescribed for stroke prevention.
However, patients who take warfarin have to be monitored to ensure the right dose is given as too much warfarin can result in excessive bleeding, while alcohol, eating broccoli and taking other medications can impact on its effectiveness, meaning doctors are sometimes reluctant to prescribe it.
Warfarin is cheaper than the new drugs at about £1 day.
Apixaban, rivaroxaban and dabigatran are considered preferable to warfarin as they do not require regular monitoring or dose adjustments.
Deputy director of research at the Stroke Association Dr Peter Coleman told The Telegraph; "We welcome the approval of apixaban and are pleased that health professionals will now have an extra treatment in their armoury when treating patients with atrial fibrillation in order to reduce their risk of stroke."
---
Image: NICE is recommending Eliquis over blood thinning drug warfarin, which has been prescribed for stroke prevention since the 1950s.