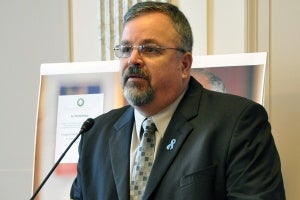 A promising new antimalarial drug with the potential to cure and block transmission of the mosquito-borne disease has been discovered by researchers.
The drug, known as ELQ-300, has demonstrated preventative transmission-blocking and a low likelihood of developing rapid resistance to major strains of malaria parasites.
Researchers say it is also likely that the drug could be produced more cheaply than existing antimalarials.
ELQ-300 is now moving into clinical testing.
This new treatment was developed by the Medicines for Malaria Venture (MMV) drug discovery initiative, which is made up of researchers from Oregon Health & Science University in Portland, Drexel University in Philadelphia, University of South Florida and Monash University in Australia.
The full details of their research was published yesterday in the Science Translational Medicine journal.
During the process of creating the drug, researchers discovered and developed a series of potent compounds to combat malaria quinolones.
From this series, they narrowed down the most effective drug candidates to one lead drug, ELQ-300.
"This is one of the first drugs ever to kill the malaria parasite in all three stages of its life cycle," said Dr Kyle, a member of the Global Infectious Diseases Research team at the USF College of Public Health.
"So, it may become part of a new-generation therapy that not only treats sick people and prevents them from getting ill, but also blocks the transmission of malaria from mosquitoes to humans … If the drug can break the parasite life cycle, we may ultimately eradicate the disease."
Malaria is a tropical disease that kills nearly one million people a year, mostly in developing countries.
ELQ-300 was derived from the first antimalarial quinolone, endochin, discovered more than 60 years ago but never pursued as a treatment because it appeared not to work in humans.
Researchers used new technology to develop this latest class of drug.
"This was a very challenging project requiring years of hard work, collaboration across disciplines, and a good portion of luck," said Dr. Manetsch, from the University of South Florida.
---
Image: Malaria kills nearly one million people a year. Photo: Univeristy of South Florida.