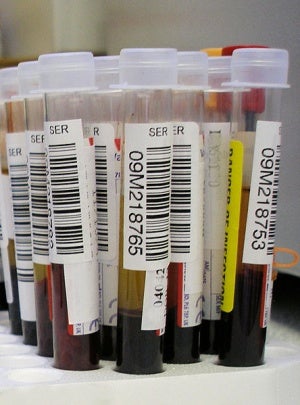 A blood test that can diagnose Alzheimer's disease is close to being developed, say researchers at Saarland University in Germany.
They have developed a new technique that shows that Alzheimer's could be determined by differences in the tiny fragments of genetic material floating in the blood.
The test, which was conducted on 202 people, was found to be accurate 93% of the time.
Currently there is no definitive test for Alzheimer's disease; it is diagnosed by cognition tests and brain scans. A key goal in Alzheimer's research is to develop a simple test for diagnosis.
To develop the test technique the researchers analysed 140 microRNAs, fragments of genetic code, in patients with Alzheimer's disease and those without the disease.
They discovered 12 microRNAs in the blood, which were present in markedly different levels in people with Alzheimer's this was used as a basis for the test.
Alzheimer's Research UK's Dr Eric Karran: "This is an interesting approach to studying changes in blood in Alzheimer's and suggests that microRNAs could be playing a role in the disease.
"The findings highlight the importance of continuing research efforts to understand the contribution of microRNAs to Alzheimer's, but the translation of this into a blood test for Alzheimer's in the clinic is still some way off.
Full details of the study can be found in the journal of Genome Biology.
---
Image: Blood test vials. Photo: courtesy of GrahamColm.