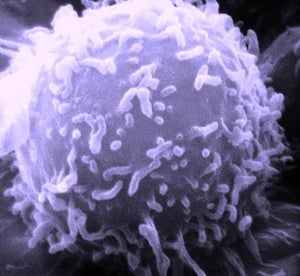 Researchers in the US have found a way of strengthening the body's immune system so that it can attack cancer.
A team from the Children's Hospital of Philadelphia published their findings in Nature Medicine, which revealed that shifting the body's balance could help in fighting the disease.
The immune system has a delicate balance that enables it to attack invaders but not the body's own tissues.
Results based on animal research suggest that changing the immune system's balance could unlock the potential to create different cancer therapies.
Studying T-cells or Treg cells has been instrumental in both cancer and autoimmune disease research.
They are essential for the immune system to relax and prevent the immune system attacking the body.
According to Dr Wayne Hancock, study leader and chief of the Division of Transplantation Immunology at the Children's Hospital, "We needed to find a way to reduce Treg function in a way that permits antitumor activity without allowing autoimmune reactions."
"It really moves the field along towards a potentially major, new cancer immunotherapy."
The research involved breeding mice which did not produce a chemical required for Tregs to work effectively.
Subsequently, they used a drug that essentially created the same effect in ordinary mice. Both trials resulted in a change in the immune system, which prevented the growth of a type of lung cancer.
"It really moves the field along towards a potentially major, new cancer immunotherapy," added Dr Hancock.
Although the experiments proved successful on mice, it is not ready for clinical trials on humans.
Dr Emma Smith, Cancer Research UK's senior science information officer, commented: "Turning the power of our immune system against cancer is a promising field of research and something scientists around the world, including our own, are studying."
She also revealed how the findings would "go another step towards developing new treatments that act in this way, but the research is still at an early stage and we don't know yet whether this approach will be safe or effective in people."
---
Image: Electron microscopic image of a single human lymphocyte (cancer cell). Photo courtesy of Dr Triche, National Cancer Institute.