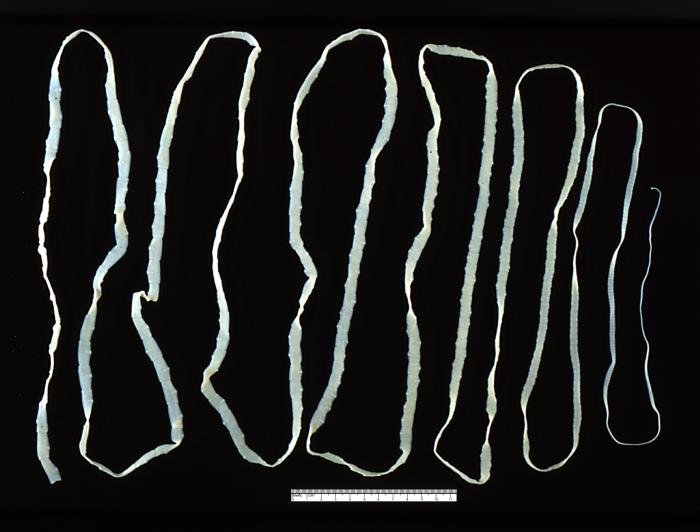 Scientists have mapped the genomes of tapeworms in an attempt to find new drug targets to treat deadly tropical diseases.
Tapeworms cause echinococcosis and cysticercosis, two of the World Health Organization's 17 neglected tropical diseases for which there are no effective treatments.
As an adult it can live relatively harmlessly in the gut, but its larvae can spread and from cysts in internal organs, including the brain.
Researchers at the UK's Wellcome Trust Sanger Institute and University of Würzburg in Germany sequenced genomes of four species of tapeworm to explore their genetic weaknesses.
The team looked for similarities between humans and the parasite as both are multicellular and the tapeworm is evolutionarily similar to humans.
This opened up the possibility that drugs that had already been designed could work on the parasite.
They found that tapeworms may be susceptible to existing cancer treatments, as many of the processes of the diseases caused by these parasites parallel those of cancer tumours, such as suppressing cell division.
Scientists also found that disrupting proteins that bind the necessary fats crucial for larvae development using existing drugs may also prove an effective treatment.
Professor Klaus Brehm, study co-author from the University of Würzburg said; "Given that so few successful treatment options are currently available, we hope that we will be able to identify and validate existing drug candidates, relieving the burden of this debilitating, overlooked disease."
---
Image: An adult Taenia saginata tapeworm. Humans become infected by ingesting raw or undercooked infected meat. Image: Courtesy of the CDC.