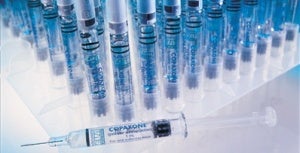 Teva Pharmaceutical has revealed its earnings were down 27% for the first quarter of 2013 due to a loss of royalties, generic competition and a decline in sales.
Generic competition for its Provigil drug, which treats tiredness caused by narcolepsy, obstructive sleep apnea and changes in work schedule, came into play in the second quarter of 2012, resulting in a 92% drop in US sales in the first 2013 quarter.
The company also lost royalties from sales of the generic equivalent of Lipitor under an agreement with Ranbaxy, and experienced a decline in sales from Lexapro and Adderall due to increased competition.
Total US revenue for Teva fell 11% to $2.4bn compared to last year's first quarter.
Overall, Teva earned $630m in the three months that ended March 31, compared to $859m the previous year.
Total revenue for the company fell 4% to $4.9bn
US revenue from the company's multiple sclerosis treatment Copaxone climbed 17% to $1bn.
Teva's president and chief executive officer Dr Jeremy Levin said; "Our generic operations, which are a core component of our business, performed in line with our expectations and were particularly strong in Western and Eastern Europe."
Teva recorded net revenues in Europe in the first quarter at $1.5bn (30% of total revenues), an increase of 11% compared to the first quarter of 2012.
The company said this was down to stronger revenues from some of its specialty medicines, primarily Copaxone.
The company also launched several generics in Europe, which boosted performance.
For the rest of the world sales totalled $966m (20% of total revenues), a decrease of 3% compared to the first quarter of 2012.
This decline was attributed to, among other things, lower revenues in Canada due to government imposed price reforms.
The company said exchange rate differences, mostly due to the weaker yen, reduced revenue by about $35m.
"I firmly believe that Teva is poised to seize today's opportunities and successfully meet our industry's changing dynamics tomorrow," Levin added.
---
Image: Multiple sclerosis treatment Copaxone. Photo: Courtesy of Teva Pharmaceutical.