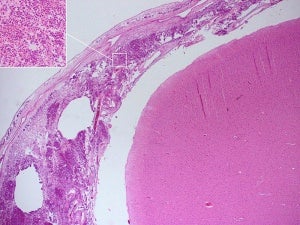 The FDA are looking into reports a further two drugs made by a US drug company could be linked to a recent fungal meningitis outbreak in the country.
The FDA is investigating claims that a patient, who was administered the steroid triamcinolone via an epidural, has contracted possible fungal meningitis, which is associated with the recent outbreak
They are also investigating the possibility that two other patients who were administered a cardioplegic solution during transplant operations have contracted the rare fungal meningitis associated with the outbreak.
The drugs are both made by the New England Compounding Center (NECC) in the US, which is currently under investigation after vials of its methylprednisolone acetate steroid are believed to have infected more than 200 people with fungal meningitis, causing 15 deaths.
The FDA has not yet confirmed that any of the three patients have contracted the fungal infection from NECC products.
The FDA started advising healthcare professionals not to use any of NECC's products from the 4 October. NECC then recalled all its products on the 6 October.
Meningitis fungal infection is a rare illness that causes inflammation of the membranes covering the brain and spinal cord. Symptoms include severe headache, nausea and fever, as well as slurred speech and difficulty walking.
A Tennessee woman infected by contaminated methylprednisolone acetate is in the process of suing NECC for $15m in damages.
Only eight of the 24 states that received the suspected contaminated injections had no reported meningitis cases. The others all had at least one.
The outbreak has raised questions about the process of drug compounding, which is where drug companies create pre-packaged individual doses of a drug. Compounding is not regulated in the US.
---
Image: Histopathology of bacterial Meningitis: autopsy case of a patient with pneumococcal meningitis showing leptomeningeal inflammatory infiltrates consisting of neutrophilic granulocytes. Photo: Courtesy of Marvin 101.