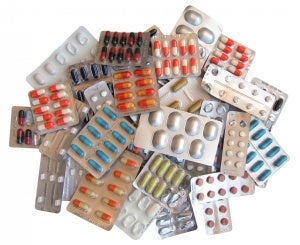 Drug discovery in the UK has risen in the last 30 years according to researchers, refuting persistent concerns that it is declining.
Researchers from Birmingham University, writing in the BMJ Open journal, say that after analysing data from the British National Formulary guide on drugs, they conclude that UK drug discovery is not declining but increasing.
The team studied how many medicines had been discovered between 1971 and 2011.
They found that the average number of drugs introduced per year was just below 23, with nine in the lowest year and 34 in the highest.
Overall, they found that in recent years there have been 0.16 more drugs being produced every year than there were in the 1970s.
They added that there was a drop between 1998 and 2006, but since then the numbers have risen again.
Report author Dr Derek Ward told the BBC; "We started this research because there was a great deal of pessimism within the industry and among pharmaceutical companies about the number of new drugs that were getting to the market.
"We found that looking at the data over the longer term there was a slight increase. This is obviously a good thing for patients, if more new medicines are becoming available."
Their research comes a day after Professor John Hudson from the Department of Economics at Bath University outlined his concerns about UK drug discovery in a paper entitled 'Into the Valley of Death: Research and innovation', published in Drug Discovery Today.
He determined that while there had been some positive changes to the industry, research financers often still operate using older, linear innovation models and fail to consider the commercialisation of outcomes until too late in the process, for example when a research project is near to completion.
Birmingham University's study also conceded that rising costs of drug development and the increasingly long time it takes to bring a new drug to the market remains an ongoing problem for the pharmaceutical industry.
Association of the British Pharmaceutical Industry chief executive Stephen Whitehead, speaking to the BBC, said; "It is a common myth that our industry has struggled to develop new medicines, when in reality the research pipelines of companies are healthy."
---
Image: Though improvments are needed, researchers say drug discovery is actually increasing not declining. Photo: Courtesy of Alaa Hamed.