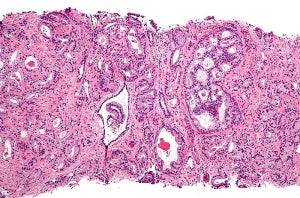 Prostate cancer patients living in the UK have less access to life-saving drugs than those residing in France, Spain, Germany and Italy, according to a report sponsored by drugs firm Astellas.
Last year, The National Institute for Health and Clinical Excellence (Nice) said two breakthrough prostrate cancer drugs were too expensive to recommend for use on the NHS, and has generally been slow to recommend new prostrate cancer drugs, The Telegraph reported yesterday.
NICE eventually agreed to the NHS use of prostate cancer drug abirateron after Jonson & Johnson agreed to drop its price.
Prostate Cancer UK representative Dr Sarah Cant, speaking to The Telegraph, said; "The findings of this research are all too familiar. They serve to further cement the fact that men with prostate cancer are not guaranteed the world class care and support they deserve within the UK and beyond."
In January, Prostate Cancer UK showed that breast cancer, the most common female cancer with a similar death rate to prostate cancer, received more than double the annual research spend per case diagnosed in the UK; £853 compared to £417 respectively.
Commenting on the Astellas report, a Department of Health spokesman told The Telegraph; "We want to save an extra 5,000 lives a year from cancer by 2014 and improving outcomes for men is an essential part of this.
"We want to be one of the leading countries in the world at tackling cancer and we are investing £750m over four years to give patients the best chance of being diagnosed earlier, get access to the best treatment and care available and improve outcomes.
The Scottish Government and Prostate Cancer UK announced this week that with the support of the Movember Foundation they will be providing a six figure boost for research into prostate cancer, which is the most common cancer in Scottish men.
As part of a money matching scheme agreed between Prostate Cancer UK and the Chief Scientist Office, as much as £500,000 is to be pumped into prostate cancer research, with Prostate Cancer UK topping up a £225,000 contribution from the Scottish Government.
The money will be used to fund clinical research into detecting the differences between aggressive and non-aggressive forms of the disease, one of Prostate Cancer UK's priority areas for research funding.
Prostate Cancer UK director of research Dr Iain Frame said; "Due to decades of underfunding and neglect we still know far too little about why prostate cancer kills one man in the UK every hour. Working with our partners, the Movember Foundation, we have recently been able to triple our research spend to a record £25m over the next three years.
"Working together with the Government and the people of Scotland we can, and will, beat prostate cancer."
---
Photo: Micrograph depicting acinar type prostate adenocarcinoma, the most common form of prostate cancer. Photo: Courtesy of Nephron.