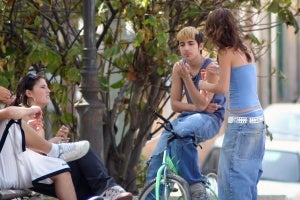 Teenage deaths from cancer in the UK have fallen by almost half, says Cancer Research UK.
However, the figure masks a lack of drug development and clinical trial access in the area, the charity warns.
According to the report compiled by The University of Manchester , Cancer Statistics Report: Teenage and Young Adult Cancer, the number of teenagers and young adults aged between 15 – 24 dying from cancer in Britain has fallen from around 580 per year from 1975 – 1977 to around 300 from 2008 – 2010.
The charity says this is because of increasing awareness of this group's specific needs, which have been highlighted by specialisation in teenage and young adult care.
Some experts believe that a change in the way this group are treated – like children rather than adults – mean treatment for some cancers like leukaemia are doing better.
However, the charity warned today that these positive figures mask a greater need for drug development and access to clinical trials for this age group.
Cancer Research UK teenage cancer expert and report collaborator Professor Jillian Birch said; "We've made great progress in helping more teenagers and young adults survive cancer, and today over 80% will beat the disease.
"But there remains a problem with getting teenagers and young adults on to clinical trials – less than 20% are on trials compared to around 50% to 70% of children."
In the last fifteen years the largest drop in deaths was in the leukaemias, from an average of 54 deaths per year in 1995 – 1999 to 39 deaths in 2006 – 2010 in young males.
In females, it fell from an average of 38 to 21 deaths per year.
There are also fewer young males dying from non-Hodgkin lymphoma, dropping from an average of 20 deaths per year in 1995 – 1999 to 14 deaths per year in 2006 – 2010.
Teenage Cancer Trust CEO Simon Davies said that although this is fantastic news many rarer cancers which affect young people, like sarcomas, have made little or no progress.
"More investment in rare Cancer Research is urgently needed. We want to work with Cancer Research UK and the pharmaceutical industry to ensure better access to clinical trials for young people with cancer," Davies said.
The report says that around 2,100 teenagers and young adults are diagnosed with cancer in Britain every year, with the most common type being lymphomas.
Cancer remains the main cause of death from any disease in teenagers and young adults, with only transport accidents accounting for more deaths.
Cancer Research UK chief executive Dr Harpal Kumar said; "Too many young people are left out of clinical trials due to rigid age restrictions and this must change for us to continue to see improvements across all cancer types."
---
Image: Around 2,100 teenagers and young adults are diagnosed with cancer in Britain every year. Photo: Courtesy of Angel Janer.