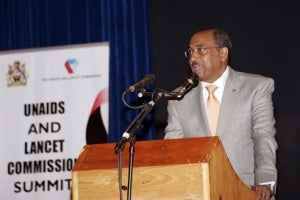 The Joint United Nations Programme on HIV/AIDS (UNAIDS) has launched a new plan to help it reach 15 million people with antiretroviral treatment by 2015, the goal set by UN member states in 2011.
Named 'Treatment 2015', the new framework aims to offer countries and partners practical and innovative ways to increase the number of people accessing antiretroviral medicines, which help people with HIV live longer and healthier lives.
UNAIDS executive director Michel Sidibé said: "Countries and partners need to urgently and strategically invest resources and efforts to ensure that everyone has access to HIV prevention and treatment services."
The programme takes into account new guidelines released by the World Health Organisation (WHO) last month that recommend people living with HIV start antiretroviral therapy (ART) much earlier.
WHO director general Dr Margaret Chan said: "Substantial further scale-up of access to these medicines provides us with a unique opportunity to push this epidemic into irreversible decline."
The framework highlights the effectiveness of community testing campaigns in Kenya, Malawi, South Africa, Uganda, Tanzania and Zambia.
It also outlines three fundamental essential factors for hitting the 2015 target in meeting the demand for treatments, investing in resources to and improve efficiency, and ensuring sufficient delivery of services so that more people have access to antiretroviral therapy.
The report stated that just 30 countries account for nine out of ten people who are eligible for antiretroviral therapy but who do not have access.
It asks for countries to use the best available data to identify key geographical settings and populations with high HIV prevalence and disproportionate unmet need for antiretroviral therapy.
The Global Fund to Fight AIDS, Tuberculosis and Malaria executive director Mark Dybul said: "We have to work hard to defeat HIV and end it as a public health threat, and it will require concerted effort from all partners to get there."
---
Image: The report notes that just 30 countries account for nine out of ten people who are eligible for antiretroviral therapy but who do not have access. Photo: courtesy of UNAIDS