Protected: SCHOTT Tubing
Glass Tubes for Pharmaceutical Packaging Applications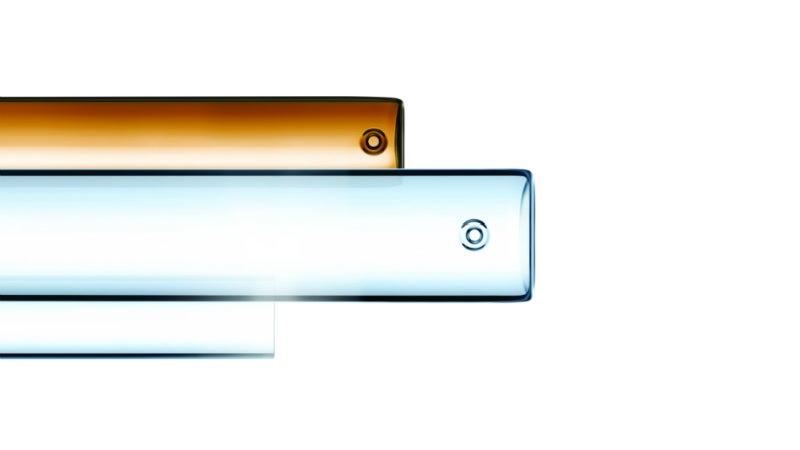 SCHOTT Tubing offers customised glass tubes for packaging pharmaceutical products. Its glass is designed for maximum safety and is thoroughly tested for quality and safety.
Glass tubes for pharmaceutical packaging
SCHOTT Tubing offers a variety of glass tubes to satisfy individual needs of drug formulations. Type I glassses FIOLAX® clear and amber and Boro-8330™ provide high-chemical resistance for low-risk of drug-container interaction. AR-Glas® and ILLAX® are suitable for the production of containers for packaging orals, tablets, and powders.
First hydrolytic class glass tubing for pharmaceutical and biotechnological products
Invented by SCHOTT in 1911, FIOLAX® glass tubing is used to make high-quality packaging containers for sensitive drug products, such as biopharmaceuticals or drugs that needs to be lyophilised.
FIOLAX® amber helps protect pharmaceuticals from short-wave visible light and ultraviolet rays. This meets a large number of national and international packaging requirements for parenteral medicines.
Glass tubing for the production of vials, ampoules, syringes, and cartridges
FIOLAX® is used to form a vast range of packaging products, including vials, ampoules, syringes, and cartridges.
Tubing closed ends are manufactured in accordance with SCHOTT's own DENSOCAN® system. This involves the separation of tubes with low-particle content, which are then sealed over an open flame. This is a safe and reliable method of avoiding contamination in the process chain.
Glass tubing module-based training
SCHOTT offers module-based training concept FIOLAX® Academy. Customers are provided with six modules, covering topics from tubing glass basics to drug-container interaction. Individual workshops are also provided.
perfeXion™ – the new era of quality processing
With perfeXion™, SCHOTT is moving towards zero defects in pharmaceutical glass tubing production. It stands for the transition from statistical quality control to 100% inspection of each individual tube over its entire length.
This new production quality process combines line scans, infrared (IR) inspection systems, area cameras, and lasers to collect data, which is then collected by a holistic inter-connected IT solution
perfeXion™ enables FIOLAX® to be used for even more sophisticated primary packaging solutions for advanced medical treatment.
About SCHOTT
SCHOTT is an international technology group specialising in the areas of specialty glass and glass-ceramics. The company offers a broad portfolio of high-quality products and solutions, with more than 130 years of experience in development, as well as extensive materials and technology expertise.
With sites in Europe, South America, and Asia, SCHOTT Tubing has a total production capacity of more than 140,000t. For glass tubes, rods, and profiles, SCHOTT Tubing is one of the leading manufacturers world.
Protected: SCHOTT Tubing Images
Press Release
Microalgae manufacturer ecoduna has selected SCHOTT's glass tubes for its new photobioreactor (PBR) facility after a successful 18-month testing period.
Read more
SCHOTT has taken new steps to help ensure its clear and amber FIOLAX® glass tubing has zero defects by implementing new technical performance specifications.
Read more