AIM provides supply chain design, development, and consultancy services for new and established life science companies.
We have been helping pharmaceutical, biotech, and other life science companies design, build, and sustain effective supply chains since 2009.  Although our clients include emerging life science companies and well-established leaders, we have a special focus on helping life science start-ups or new entrants launch successfully.
The AIM team includes more than 60 supply chain professionals with industry and consulting backgrounds.  It offers extremely deep knowledge of European markets, but also serves clients in North America and beyond.
Specialized and Comprehensive Support
AIM is fully specialized in supply chains, with expertise in all core and supporting functions.  We have extensive experience with complex supply chains, including those for biotech products, small molecules, advanced therapy medicinal products (ATMPs), autologous and allogenic stem cell therapies, gene therapies, vaccines, controlled / scheduled drugs, medical devices, diagnostics, and diagnostic equipment.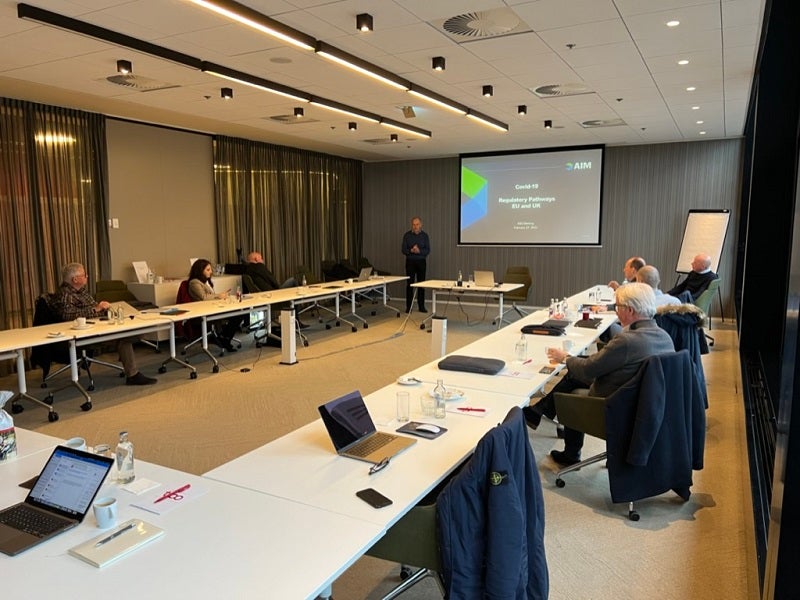 AIM helps life science companies develop and sustain effective supply chains.
We have extensive experience with complex supply chains for pharmaceutical and life science products.

AIM has supported more than 70 product launches to date.
Our team provides a comprehensive range of offerings, from strategy and design to more "hands-on" maintenance and support.
Supply Chain Design and Development Services
AIM provides supply chain strategy, design, and implementation services, particularly for start-up life science companies, having supported more than 70 launches to date.  We are well-connected in EU markets to help clients identify and select critical business partners for launching in Europe.  We also provide adjacent services including secondary packaging partner search and implementation, artwork support, serialisation project management, and transport validations.
Supply Chain Consultancy and Maintenance
AIM's strategic and operational consulting services help clients to achieve business objectives and tackle supply chain challenges.  Our team outlines clear goals and expectations for each project.  All work is backed by a robust array of best practices, "playbooks", and tools.
The AIM team also provides ongoing management of key supply chain functions to sustain efficient operation post-launch.  Our support services often include demand and supply planning, coordinating imports, testing, release, packaging and distribution activities and orders, as well as the oversight and management of external partners.
When life science companies have critical roles that are temporarily vacant, AIM can provide experienced professionals to fill them.  We establish clear goals for each interim role and conduct regular performance reviews to ensure accountability and client satisfaction.
Access to Additional Resources
AIM is a subsidiary of Blue Matter, a strategic consulting firm serving the life science industry. This allows us to connect clients with a range of global capabilities that are critical to emerging companies or those entering new markets to match their goals.  These capabilities include product and portfolio commercial strategy development, organizational design and development, and training design, development, and delivery.
AIM is also a key component of Blue Matter's PathfinderSM suite of capabilities, designed to help biopharma companies enter European markets and succeed.