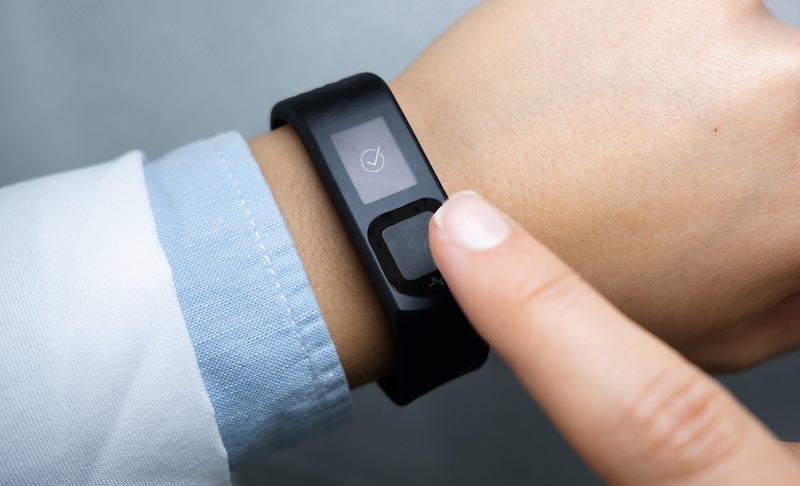 As the producer of the Nymi BandTM, a workplace wearable that's proven to improve security and compliance in active worker environments, Nymi helps companies in sectors like manufacturing and pharmaceuticals make significant safety, security, and productivity improvements.
Nymi's CEO, Chris Sullivan, spoke to Pharmaceutical Technology about the background of the workplace wearable and what makes the device stand out.
Q: How did the Nymi workplace wearable come about?
Nymi itself was launched to further explore research from the University of Toronto, that looked at using electrocardiograms (ECGs) for biometric authentication. Our prototype wearable band was built based on the idea it could replace things like fingerprint, facial, and hand recognition. Because the band sat on a user's wrist and didn't require a password, and because you can wear it together with protective gear like coats, gloves, masks, and eye protection, we began getting lots of interest from the pharmaceuticals industry.
Our second-generation band was the first we brought to market, and is used in some of the most demanding environments around the world. Our customers included nine of the top ten pharmaceutical companies, and 32 of the top 50, globally. For example, the band is used as a strong assurance of a worker's identity as they move through a manufacturing process. Increasingly, it's used for entering secure buildings and floors, and signing into enterprise systems and applications.
In the last year, we've been exploring much more how the band can help connect the worker. Connecting active workers must be done very securely, and you need to protect workers' privacy. You also need a natural user experience that doesn't take up workers' time, or burden them. So, that's where the band has evolved to. It has become a platform for the connected worker. We released our third-generation band earlier this year to great success.
Q: How does the Nymi workplace wearable work?
The technology in the Nymi Band is quite unique. Firstly, from a security perspective, when you wear the band, we use your fingerprint to biometrically assure that it is you who's wearing it. It's a very strong assurance – false positives are roughly one in 500,000. To make it even stronger, it also verifies that the ECG in your fingerprint and your wrist are the same. This helps prevent coercion and collusion by even the most sophisticated adversaries.
The band contains a security processor and essentially acts like a one-way vault, so that your fingerprint signature goes in and never comes out. So, even if you lose your band, no one can access or remove your biometric signature from it.
Once it's on, the band does what computers do very reliably. It uses cryptography and mathematics to prove who you are to the network. You put the band on in the morning and it binds to your wrist. Then, for the rest of your work day, the band is proving who you are to the network at potentially hundreds of intervals. There's nothing more you need to do.
Q: What is the Nymi Band's unique selling points?
This hands-free and touchless device can connect workers to billions of different types of systems, machines and applications, and be used as an authentication device for accessing anything from entire buildings to floors, elevators, vending machines and digital vaults. Any equipment that can be controlled using digital keys can be controlled using the Nymi Band.
The band is also a reliable workplace wearable, that can be used in any environment. Other wearables, like some watches, can't be worn in certain environments for security reasons. Very few have the right operational technology – they can't be appropriately cleaned or don't have the requisite battery life. A clinician, for example, cannot rely on a device that might fade half way through their shift.
Finally, it is very easy to use. You just put it on your wrist and it goes to work for you. One charge of the battery lasts for several days.
Q: What benefits does the solution have in the context of Covid-safe workspaces?
The Nymi Band works very well for any organisation putting protocols in place around social distancing to get people back to work safely.
An optional app can ask users to provide a self-health assessment to ensure that they are not high risk before entering a facility. This can either be shown to a security guard or used to actually prevent access to physical spaces by controlling access to doors and elevators.
Smart distancing gives workers gentle reminders when they are in close proximity by vibrating the band. This conditions workers for healthy behavior. Finally, individuals can be tracked so that approved contact tracers can see where high-risk contacts and infected people may have crossed paths.
Moving forward, we will also be able to track things like hand washing compliance before opening a door to a clean room or operating room. If you're a hospital operator, for example, or you operate clean manufacturing environments, like in pharmaceuticals or medical device manufacturing, or you're in food production, the band can help determine whether staff have washed their hands and for how long.
When a workspace is at risk of being contaminated, the band can help secure it by locking down key sections, reducing the risk of an infectious disease spreading. In any workspace where the need to contain infectious diseases is crucial, the Nymi Band can perform many functions.
The situation around Covid-19 is likely to die down, but now organisations understand that early detection and contact tracing measures need to be in place from the outset to protect the health of their workforce. Whatever the post-Covid environment looks like, organisations should be prepared.