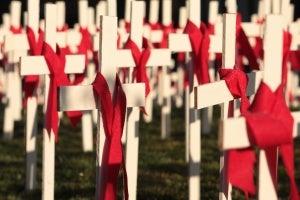 Two organisations that represent the majority of frontline HIV care providers in the US have released a joint statement providing detailed recommendations on improving access to HIV drugs, including setting fairer prices.
The American Academy of HIV Medicine (AAHIVM) and the HIV Medicine Association (HIVMA) yesterday released a joint statement issuing recommendations to pharmaceutical companies, insurers and the Centers for Medicare and Medicaid Services (CMS) on ways HIV drug treatment can be more accessible in the US.
The statement expressed concern over the rapid rise in the prices of some HIV drugs.
It said; "We have growing concerns with antiretroviral pricing. As examples, several years ago, the price for the commonly prescribed Norvir (ritonavir) was increased by 400 percent.
"More recently, a new combination medication, Stribild (elvitegravir + cobicistat + tenofovir + emtricitabine), was priced 33 percent higher than the comparablecombination antiretroviral Atripla TM (efavirenz/emtricitabine/tenofovir disoproxil fumarate).
"With HIV disease still disproportionately affecting the poor in the US and worldwide, decisions such as these restrict access to effective HIV treatment and contribute to HIV-related disparities."
One of the other key issues highlighted in the statement is the level of people needing these drugs that are uninsured or using Medicaid.
The statement said; "Due to the socioeconomic distribution of the disease, drug accessibility based on price unduly affects individuals with HIV."
25% of people with HIV infection are uninsured, fewer than 15% have private healthcare insurance and nearly half rely on Medicaid, but even then the majority only qualifies after becoming disabled by AIDS.
There are 1.1 million people living with HIV in the US but just 37% receive regular care and only 25% have undetectable levels of HIV in their blood.
HIVMA and AAHIVM also thanked the pharmaceutical industry for its research and development of life saving HIV therapies, called upon it to participate in innovative programs like HarborPath, a non-profit organisation dedicated to helping the uninsured living with HIV/AIDS gain access to free medications offered by Patient Assistance Programs (PAPs), and to work with US policymakers and public and private insurers to reduce burdensome restrictions that are barriers to expediting access to lifesaving HIV drugs.
Image: There are 1.1 million people living with HIV infection in the US. HIV causes acquired immunodeficiency syndrome (AIDS), awareness of which is raised on World Aids Day. Photo: Courtesy of Andrew Con.