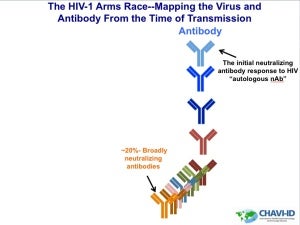 US scientists have for the first time tracked and recorded the early response of one person's immune system to the HIV virus, collecting information which they believe could lead to a long sought after vaccine against the virus.
Using new technologies that can detect early infection and track the subsequent immune response, researchers at the Duke Human Vaccine Institute in North Carolina recorded the co-evolution of antibodies and the virus in a person with HIV in Africa, whose immune system mounted a broad attack against the pathogen.
Vaccines usually work by inducing antibody responses; however, this technique hasn't worked with the HIV virus because when HIV antibodies are produced in a person's body, they typically have a limited range, and the virus changes rapidly to escape harm. This leads to a race the virus usually wins.
Importantly, in this study the early detection meant the virus had not yet mutated to avoid the immune assault.
The patient also had broadly neutralising antibodies, which occur in only 20% of infected people, that attack vulnerable sites of the virus that are conserved despite mutations.
This, and early detection, allowed the scientists to record a detailed 'road map' for development of a potential vaccine, which involves immunogens with an outer envelope specifically selected to stimulate the production of broadly neutralising antibodies.
These findings, which were published on 3 April in the journal Nature, fill a gaps in knowledge that has impeded development of an effective vaccine
"For the first time, we have mapped not only the evolutionary pathway of the antibody, but also the evolutionary pathway of the virus, defining the sequence of events involved that induce the broadly neutralising antibodies," said Barton F Haynes, director of the institute and leader of the study.
HIV kills more than 30 million people worldwide. In the UK alone, an estimated 96,000 people were living with HIV by the end of 2011. Just under half of HIV diagnosis comes late, with 47% of adults newly diagnosed in 2011 being diagnosed at a late stage of HIV infection.
"The next step is to use that information to make sequential viral envelopes and test them as experimental vaccines," Haynes said.
"This is a process of discovery and we've come a long way with regard to understanding what the problem has been."
---
Image: The Scientists say these findings fill a gaps in knowledge that has impeded development of an effective vaccine. Image: Courtesy of Duke Human Vaccine Institute.