The US is known for having higher list prices for drugs than other high-income countries. But these higher prices have not deterred investment and US patient usage of diabetes/weight-loss drugs, such as semaglutide. While Medicare is not allowed to cover weight loss drugs under current law and Medicaid coverage varies by state, the US, like its counterparts in Europe, is seeing an increased interest in these drugs.
GlobalData has therefore analysed the price differences between the popular drug, semaglutide, in the US, compared to the top five European markets (France, Germany, Italy, Spain and the UK). Other factors considered include how the average first price change is seen in each market, the time to first price change, and how respective health technology assessment (HTA) outcomes vary between semaglutide brands and all drugs indicated for the treatment of obesity or diabetes across the Europe top five and the US.
Launch cost lower in the top five European markets
Semaglutide was first launched in the US in December 2017 by Novo Nordisk, under the brand name Ozempic, for the treatment of type 2 diabetes and as an "add on" to other diabetes medicines, at a manufacturer price of $676.00. It is currently the only brand of semaglutide available in all top five European markets and the US. Along with the drug's increased popularity and expanded use, including off-label treatments for weight loss, other brands of semaglutide were then launched by Novo Nordisk under the names Rybelsus and, most recently, Wegovy. Of the semaglutide brands, only Wegovy has been approved for weight loss, together with diet and physical activity. It is not uncommon for an active ingredient that has been used for an off-label indication to then be approved under a different brand with a higher price.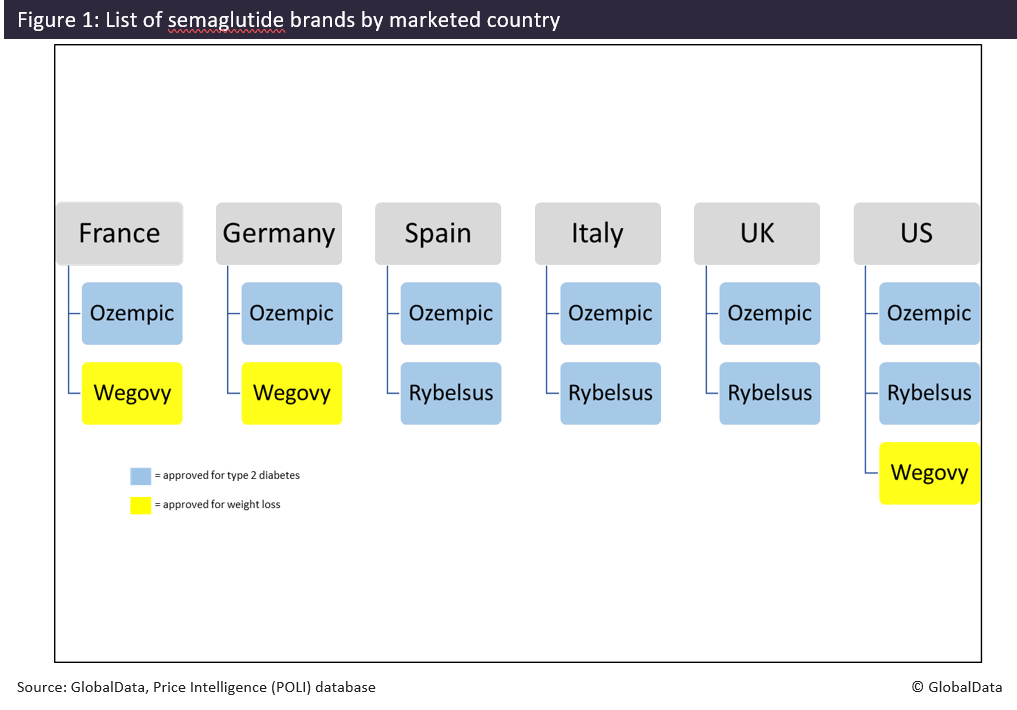 GlobalData has compared the average daily cost at launch of these different brands of semaglutide across the top five European markets and the US based on a defined daily dose (DDD) of 0.11mg for those brands delivered parenterally (Ozempic and Wegovy) and 10.5mg for the orally administered Rybelsus. While the daily dose for Wegovy is higher in practice, 0.11mg was used to allow for a direct comparison of the two semaglutide products that have the same dosage form. For the US, the "Big 4" and wholesale acquisition cost (WAC) prices were used to calculate the daily cost.
Since the Big 4 price is the maximum price a manufacturer can charge the big four federal agencies (Department of Veterans Affairs [VA], the Department of Defense [DoD], the Public Health Service, and the Coast Guard), it offered a price control measure comparable to that of the reviewed European markets. All three products achieved their highest average daily cost at launch in the US, ranging from $16.77 for Ozempic to $45.55 for Wegovy. Compared to the US, the average daily cost of Ozempic at launch in the top five European markets ranged between 183% and 267% lower, with the lowest in France at $4.56. The most recent version of semaglutide, Wegovy, has the highest daily cost at launch of a semaglutide product in each of its markets (France, Germany and the US). However, its daily cost in France was still 143% lower than its daily cost at launch in the US, and even lower in Germany – 572% lower when compared to the US.
Wegovy's lower cost in Germany compared to the other European markets is likely due to the drug not being reimbursed there. A decision to compensate a lower price for a higher volume of sales may therefore have been made. It is worth noting, however, that a direct comparison cannot be made between Wegovy and the other brands. While the drug is also a semaglutide product, its higher cost is justified by a higher dosage that aligns with its approval specifically for weight loss.
How well do you
really

know your competitors?

Access the most comprehensive Company Profiles on the market, powered by GlobalData. Save hours of research. Gain competitive edge.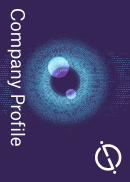 Company Profile – free sample
Thank you!
Your download email will arrive shortly
Not ready to buy yet? Download a free sample
We are confident about the unique quality of our Company Profiles. However, we want you to make the most beneficial decision for your business, so we offer a free sample that you can download by submitting the below form
By GlobalData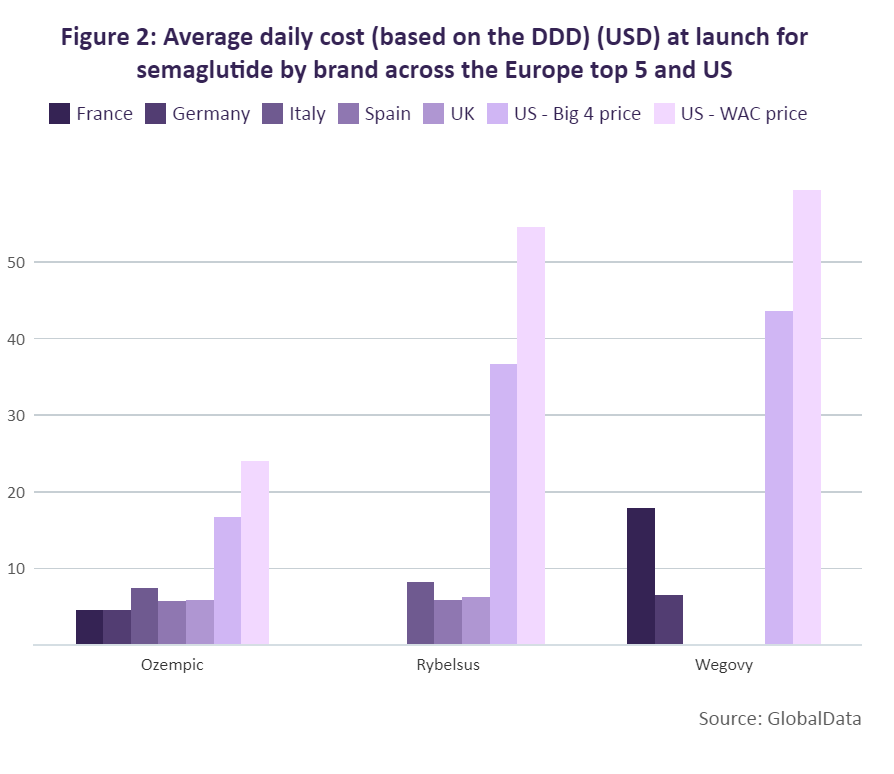 Diabetes/obesity drugs retain launch price for longer in Europe's top-5 than the US
Ozempic, Rybelsus and Wegovy have undergone price changes in at least one of these markets. According to GlobalData, Ozempic was able to maintain its launch price for the longest time in France (1,459 days) before receiving a price cut.
In Figure 3, the average first price change for all drugs that have been indicated for the treatment of obesity or diabetes (including those molecules that have been genericised) across Europe's top 5 markets and the US were reviewed and compared against the average price change of Ozempic, Rybelsus and Wegovy. In France, the average price change for Ozempic (-3.69%) was significantly lower than the overall average for all diabetes/obesity medicines (-9.68%). A similar trend is seen in Spain, where Ozempic took a price cut of only 6% compared to the overall average of 13.84%.
In Germany, Ozempic took a much greater cut (-21.17%) when compared to the overall average for diabetes/obesity drugs (-11.87%). After launching in Italy, Ozempic saw a different trend, however, and received a price increase of 5.27% while on average, weight loss medicines typically saw a price reduction of 7.47% for their first price change. In the US, both Rybelsus and Ozempic received price increases – 5.33% and 6.36% respectively – which aligned with the overall average for diabetes/obesity medicines of 5.49%. Because of Wegovy's brief time on the market so far compared to Ozempic, the drug has not yet undergone a price change in the top five European markets and its WAC price remains the same in the US. However, the drug's Big 4 price has undergone a series of minor price increases. The average first price increase for Wegovy's Big 4 price was roughly 1%.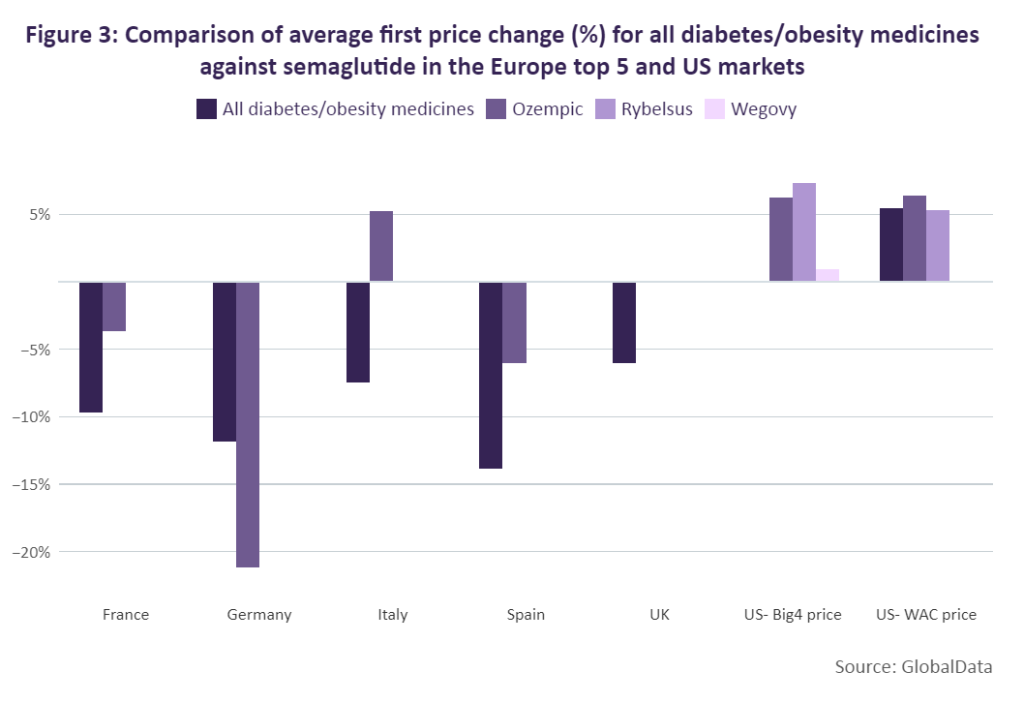 In many cases, the average time to first price change for Ozempic and Rybelsus is aligned with the average time to first price change for all diabetes/obesity medicines in each market. However, in Spain and Italy, Ozempic was only able to maintain its launch price for a shorter amount of time compared to the average for diabetes/obesity medicines. In Spain, Ozempic retained its launch price for 127 days, roughly six years shorter than the average for diabetes/obesity medicines. A similar scenario is seen in Italy where it took only 554 days for Ozempic to receive a price change, roughly two years shorter compared to the average time it takes in that country for diabetes/obesity drugs to receive a price change. This was fortunately, however, a price increase of 5.26% and linked to mandatory discounts, which are divided into two 5% parts.

Semaglutide sees less favourable HTA outcomes for weight loss than diabetes/obesity
Overall, Europe's top five and the US deliver more positive than negative decisions for diabetes/obesity drugs. The majority of positive HTA outcomes have been seen in Italy, Spain, the UK and the US, followed by France and Germany. Italy has provided the greatest number of positive outcomes for these drugs as the country maintains either a positive or negative reimbursement list as per legislation. In France, the number of positive outcomes is lower as more diabetes/obesity medicines receive less favourable reimbursement conditions, with 50 brands receiving reimbursement rates at either 65% or 30% and four brands being non-reimbursed. These products have largely been considered non-innovative (75%) by the Haute Autorité de Santé (HAS), receiving ASMR ratings between IV and V. There are, however, a few exceptions, Glucophage and Lantus, which received ratings of ASMR III.
In Germany, all medicines are reimbursed, and therefore the HTA assessment determines the pricing flexibility, with drugs either entering negotiations with the G-KV [the national government health insurance company] or undergoing therapeutic reference pricing. Those diabetes/obesity brands receiving a beneficial outcome, however, were limited. Only 30% of diabetes/obesity brands in Germany have received a positive outcome, with these drugs either being determined to have minor added benefit (Januvia, Onglyza, Trulicity, Xelevia, and Xigduo) or unquantifiable benefit (Imcivree).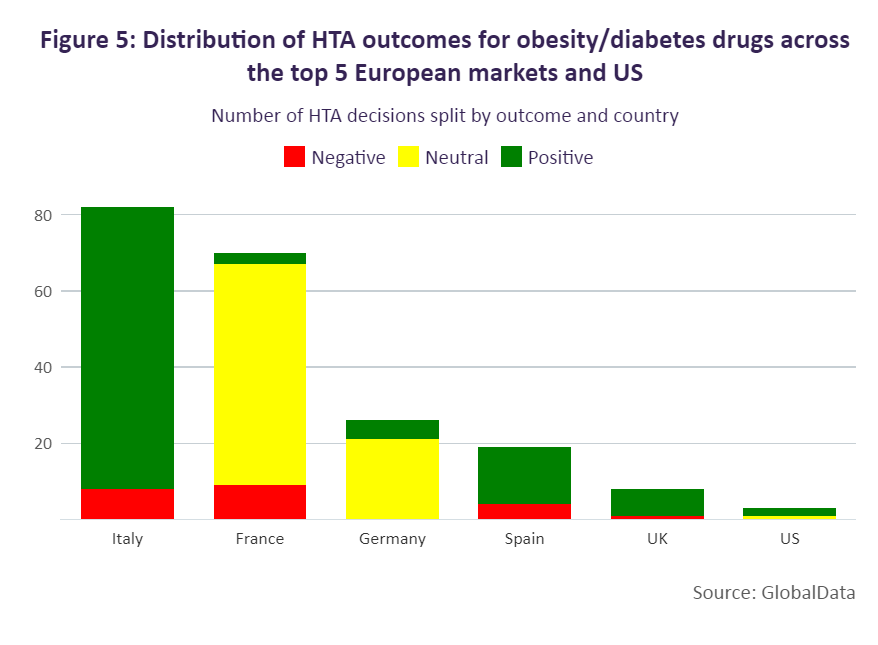 While more positive than neutral HTA outcomes have been made for semaglutide, this has more often been for diabetes products. Positive outcomes have been seen in Italy, Spain, and the US (where the incremental cost-effectiveness ratio decision is non-binding). In Italy, Ozempic and Rybelsus were assessed in 2019 and 2021 respectively, and included in the reimbursement list as class A products. This outcome was advantageous for Ozempic and Rybelsus, as medicines in Italy are more commonly initially priced as class C drugs, which are not eligible for funding, and added to the reimbursement list at a second stage. In Germany, Ozempic, although reimbursed, sees greater restriction because of its neutral HTA outcome. In 2019, the drug was initially assessed as offering no added benefit, followed by a reassessment in 2021 where the G-BA delivered the same outcome and therefore subjected the drug to therapeutic reference pricing.
Negative HTA decisions appear to be more common for weight-loss medicines, with countries deciding to either not reimburse the indication or to reimburse it with restrictions. Within the European top five, Wegovy (the only semaglutide treatment to be approved for weight loss) is available only in France and Germany. In Spain and the UK, Wegovy has yet to be priced; however, HTA decisions are already available. Spain is excluding reimbursement, and the UK is including restrictions after the drug was previously not recommended by NICE as an evidence submission had not initially been provided by the developer. In Germany, statutory health insurance categorises weight-loss medicines as "lifestyle" drugs. Consequently, the G-KV does not reimburse weight loss medicines and Wegovy will not be reimbursed.
In France, Wegovy was first reimbursed under an early access scheme, then received an ASMR [the scale that ranks drugs compared to existing treatment options] V rating in December 2022. However, the drug is not eligible for reimbursement in adults with a body mass index (BMI) lower than 35mg/m². For all of these brands, further HTA outcomes are expected.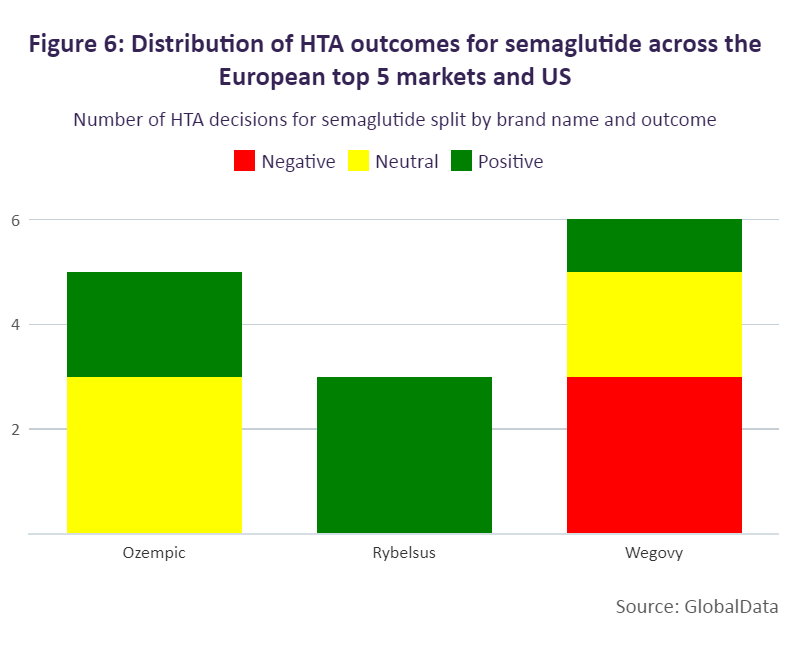 Compared to key European markets, the higher price of semaglutide and other diabetes/obesity drugs in the US could result in a higher impact on healthcare spending due to their increasing popularity. Alternatively, semaglutide products are significantly more affordable in these key European markets, with lower launch prices than the US. While these brands are more likely to see price cuts in the top five European markets, this is met with the ability to maintain their launch price for a longer time than in the US. Furthermore, more restrictive HTA outcomes in the top European markets may cause additional hurdles for pharmaceutical developers.
This article is produced as part of GlobalData's Price Intelligence (POLI) service, the world's leading resource for global pharmaceutical pricing, HTA and market access intelligence integrated with the broader epidemiology, disease, clinical trials and manufacturing expertise of GlobalData's Pharmaceutical Intelligence Center. Our unparalleled team of in-house experts monitors P&R policy developments, outcomes and data analytics around the world every day to give our clients the edge by providing critical early warning signals and insights. For a demo or further information, please contact us here.